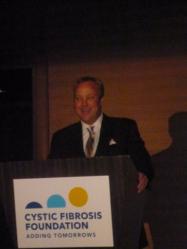 Campbell, CA (PRWEB) November 06, 2012
Groupware Technology, Inc., a leading information technology solution provider, today announced that President and CEO Mike Thompson would serve as the 2013 Gala Honoree for the Cystic Fibrosis (CF) Foundations Breath of Life Gala for Northern California. Mike was recognized onstage as an Honoree at this years Gala, a black tie event held Saturday, November 3rd at the St. Regis Hotel in San Francisco.
The Gala is one of the largest fundraising events for the Northern California Chapter of the Cystic Fibrosis Foundation (CFF). Cystic Fibrosis is a life threatening genetic disease that affects the lungs, digestive system, and other organs of 70,000 children and young adults around the world. In 1955, children with CF didnt live to see kindergarten. Funds raised through the Foundation help people with the disease live well into their thirties.
The Gala event raised over $ 185,000 for the Foundation and the evening included a cocktail reception, dinner, live jazz and the Bid for a Cure silent and live auctions. Distinguished guests bid for items including an afternoon sail on the Americas Cup Oracle racing boat, 7-day Bahamas vacation, an Oakland As Suite, and a private concert with Celine Dion in Las Vegas.
Mark Ginestro of Clarkson Consulting, the 2012 Breath of Life Award recipient, recognized Mike Thompson as an outstanding individual within the community and thanked him for his work as a CF Foundation Board member and supporter. As the 2013 Honoree, Mike will help build support and awareness for the Foundations 2013 Gala event through relationships and community involvement. Mike Thompson stated, I am inspired by the trust, the hope, the optimism, and gratitude of those in the CF community. It is an honor to be a contributor to the support of CF patients, their families and to the eventual cure of Cystic Fibrosis.
In addition to Mikes participation, Groupware Technology has supported CFF events throughout the year including the 65 Roses Golf Tournament and the Nor Cal GREAT STRIDES walk-a-thon. Giving Back to the community is one of the companys core values and the company is actively working with employees and partners to improve the lives of their community. Fundraising support for CFF has included sponsorship, matching walk-a-thon funds and employee participation. Groupware employees and their families built childrens playhouses for CF families at its first annual Habitat for Humanity Playhouse Project in October. One of the playhouses was sold to the highest bidder at the Gala auction.
"We look forward the 2013 Breath of Life Gala and we are grateful to Mike Thompson and Groupware Technology for their continued commitment and support, said Cathi Connelly, Executive Director, Northern California Chapter, CFF. "Each dollar raised brings us closer to finding better therapies and ultimately a cure for this devastating disease."
To make a donation or to learn more about Cystic Fibrosis and the CF Foundation, visit http://www.cff.org.
###
About Groupware Technology

Groupware Technology, Inc., headquartered in the San Francisco Bay Area, is a leading information technology solution provider. The company provides enterprise technology solutions to its customers in commercial, healthcare and government markets. Groupware specializes in storage, security, networking, enterprise systems and software. For more information, contact (408) 540-0090 or visit groupwaretechnology.com.
Follow us on:

Facebook: http://www.facebook.com/pages/Groupware-Technology-Inc/178627312150860

LinkedIn: http://www.linkedin.com/company/groupware-technology
Contact

Beth Fox,

503.781.1717

bfox(at)gw-mail(dot)com