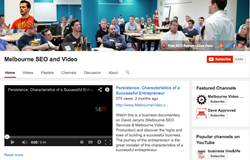 Melbourne, Australia (PRWEB) November 19, 2014
The boutique marketing company Melbourne SEO & Videos YouTube channel is quickly approaching the 1 million views mark. As of this writing, the tally stands at 999,508 with 5,640 subscribers. Viewership of this level is a tribute to the high quality videos the companys shared throughout the years.
Were excited and proud being at the cusp of this milestone, says David Jenyns, Director of Melbourne SEO & Video. We stop at nothing to produce and deliver the best quality videos for our clientele. We strive to give small business owners with the most effective ways to manage and market their businesses.
For the last five years, the channel has been a resource for people who want to understand search engine optimisation, web video marketing and production, outsourcing and business building.
Among their most viewed are videos entitled: Google Vs Yellow Pages, My Site Build It Review, How to SEO Your Website in 2014 and The Secrets to Link Building.
But its not all serious stuff, comments Jenyns, as he and his team occasionally release comedy-inspired videos to get their messages across. For example, one of their videos revolved around a stand-up comedy show with SEO jokes, while another had actors dressed up in panda and penguin costumes to make light about Google search algorithm changes.
Video marketing is our passion and through our YouTube channel were able to not only share our knowledge, but help others as well.
We are firm believers in giving back and sharing so others will also succeed, I think thats one of the main reasons why our YouTube Channel is about to hit a million views. Viewers don't discount our video contents value simply because they're free they know these videos contain incredible information as well as some of our best material, Jenyns adds.
The Melbourne-based marketing companys director further adds that many of the videos on the channel have been produced by our in-house film experts, which comprise of a director, cinematographer, video editors, scriptwriters and marketing specialists.
Jenyns continues, The film team is headed by the talented Adrian Cabrie, the companys main film director, who was also one of the top 16 finalists for the short film category in Tropfest 2013.
Melbourne SEO & Video currently offers three video product packages which let small business owners get started quickly with their own video marketing. From set-priced packages to fully custom videos, visit their dedicated web page for more info: http://www.melbournevideoproduction.com.au/video-production-in-melbourne/ or click here to view their YouTube Channel.
About Melbourne SEO Services
MelbourneSEOServices.com is a full service online marketing consultancy, based in Australia, but with a worldwide client base. Known for being at the cutting edge of strategic online marketing practices, the company delivers a growing suite of services including: on-page and off-page search engine optimisation, article distribution, Google Places listing, press release services, web video production, one-on-one consulting and much more.
Melbourne SEO Services Director, David Jenyns, has, over several years, built a team of experts who are niche experts to support the business, and who share his ethos for ethical, professional internet marketing.