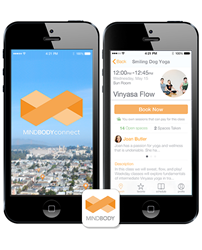 New York, NY and San Luis Obispo, CA (PRWEB) July 15, 2014
MINDBODY, the leading provider of web and mobile business management solutions to the wellness and beauty industries, has signed Alison Sweeney, host of NBCs The Biggest Loser and author of Scared Scriptless, to endorse its wellness booking app, MINDBODY Connect, which links the public to the largest network of fitness, wellness and beauty services worldwide.
Its amazing how much easier it is to stay fit with the MINDBODY Connect app, said Sweeney. It helps me book classes with my favorite fitness instructors and I can use it to find new services no matter where I am which is huge considering how often Im on the road!
Alison has committed her career to helping millions of people to adopt healthier, happier lifestyles, and we are thrilled that she is now encouraging them with MINDBODY Connect. Her personal story and inspiring example make her the perfect spokesperson for our app, said Rick Stollmeyer, MINDBODYs Co-founder and CEO.
MINDBODY Connect enables users to find, book, pay, review and share any beauty or wellness service within the MINDBODY network, all through one login. The app streamlines personal wellness activities while making it easier for users to discover all available services in their geographical areas. MINDBODY Connect is available for free in Apples iTunes Store and Google Play.
Alison Sweeney serves as the host for NBCs hit reality series The Biggest Loser, which helps motivate contestants to lose weight and achieve better health. Sweeney has openly discussed her focus on leading a healthy lifestyle in interviews and in her own published work, and has been featured on Today and on the covers of Shape, Fitness SELF, Health and many more.
About MINDBODY
MINDBODY has led the health and wellness industry in software development since its founding in 2001. The company entered the beauty industry in 2010 and is now the fastest growing SaaS business management solution for both beauty and wellness worldwide. MINDBODY has been listed on the Inc. 500/5000 list as one of the fastest growing companies in the U.S. for the past six consecutive years. http://www.mindbodyonline.com
About Alison Sweeney
Alison Sweeney, host of NBCs The Biggest Loser, recently released her second novel, Scared Scriptless. Her previous books include The Star Attraction and two non-fiction books: The Mommy Diet and All the Days of My Life So Far. Sweeney, who played the award-winning role of Sami Brady on NBCs Days of our Lives for almost 22 years, is also the Fitness Ambassador for City of Hope, an Ambassador for Stand Up 2 Cancer and a member of the Entertainment Council for Feeding America. Follow Alison on Twitter @Ali_Sweeney.