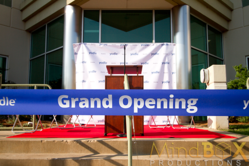 Austin, TX (PRWEB) September 25, 2012
MindBOX Productions captured the joy, life and spirit of the SEO marketing strategy company, Yodle, during a ribbon cutting ceremony in Austin, Texas. New York based Yodle hired the Austin based video Production Company to film the ribbon cutting event of Yodle's consolidation of its offices in Austin in a new facility.
MindBOX Productions used its corporate video production crew to capture and edit the ribbon-cutting moment in Austin, where Yodle now employs 750 people to staff the SEO marketing company.
Yodle gets the added benefit of taking the filmed moment anywhere in the world to show to potential investors and clients or upload it on-line at Facebook or Youtube. An unforgettable moment like the Yodle employees chanting, "We are family, we are family" has been recorded and can be disseminated anywhere, leaving a lasting impression of Yodle in viewer's minds.
MindBOX Productions was able to create in the imaginations of viewers a positive, lasting impression of Yodle. An amateur production company may well have botched it. MindBOX Productions believes audiences approach a film wanting to believe in the message, and it is important to use professionals to give them confidence in what they are viewing. The production of corporate video must be compelling and cinematic.
The Yodle ribbon-cutting ceremony was an important event. The Yodle Company more than doubled its workforce with the consolidation of services into one building. "Those additional hires represent an investment of $ 100 million in the local economy," Yodle CEO Court Cunningham said. "That's a lot of jobs." Those stakes are high, and MindBOX Productions proved the value of hiring a professional production company to get the moment properly recorded.
MindBOX Productions delivers world-class video productions to the Austin, Dallas, San Antonio and Houston markets. They use professional production services to launch products, create web traffic and create commercials. With products that fit many needs, MindBOX Productions handles both big and small projects. The Yodle Company short illustrates this.
Video sites are the most popular sites on the Internet. This is a testimonial to the power and value of video production. The best lighting and camera angles, tight editing and great audio ensures the audience will stay for the few moments it takes to grab their attention and leave with a lasting impression. For more information visit: http://www.mindboxproductions.com