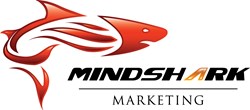 Toronto, ON (PRWEB) August 31, 2013
Mindshark Marketing has been offering effective SEO and other digital strategies for several years. In recent years the landscape for digital marketing has evolved and companies now must focus on a broader set of strategies to maximize their ROI. As such, Mindshark has developed several new offerings which include Content Marketing, Marketing Automation, and Outreach Marketing. These offerings as well as the pre-existing services have positioned Mindshark as a true Inbound Marketing Agency offering Inbound Marketing Services to businesses in all sectors.
"Inbound Marketing is simply a term used to describe an overall methodology of lead generation for companies," states a senior VP at Mindshark. " The components of Inbound Marketing have all existed before and include such practices as SEO, PPC, and Content Marketing. Marketing Automation software is perhaps the newest addition to these services, and helps to tie everything together by automating the nurturing process and assisting sales teams to better prioritize their leads."
Today standalone marketing practices are no longer as effective. Buyers are taking more control of the buying process and doing their own research and comparisons in their own time. This means there is less interaction with sales teams. Many times decisions are made before the prospect even speaks to a sales rep. In order to leverage this trend, companies must have powerful content which resonates with their audience.