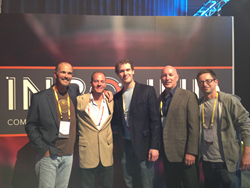 Philadelphia, PA (PRWEB) October 08, 2014
Mingl Marketing Group has launched Comfort Media Group, a full service digital inbound marketing agency focused on driving higher volumes of higher quality leads to HVAC contractors and original equipment manufacturers.
The HVAC contracting business is a perfect fit for Inbound Marketing, explains co-founder, Don Lafferty, so we spun CMG off in order to focus a dedicated team on developing digital marketing solutions for HVAC contractors. Weve spent the last couple of years building our teams, aligning ourselves with great partners, like HubSpot, Ajungo and AWeber, and gathering data.
Comfort Media Group is interviewing select HVAC contractors for on-boarding starts through February of 2015.
Comfort Media Group, a wholly owned subsidiary of Mingl Marketing Group, LLC, is a privately held marketing agency founded in March of 2012 by Don Lafferty and Ron Musser. Comfort Media Group provides digital and inbound marketing consulting and services to HVAC, and home services contractors.