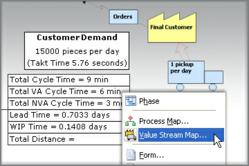 State College, PA (PRWEB) January 07, 2013
Minitab, the leading provider of software for quality improvement, is offering a free online training session on Value Stream Mapping (VSM), a Lean Six Sigma technique used to analyze the flow of information and materials needed to bring products to customers.
The hour-long training session will be held on Tuesday, January 15, 2013, at 2:00 p.m. EST (GMT -5:00). Registration is free at http://www.minitab.com/training/web-events/.
Participants will learn how to create and format a VSM step-by-step with Quality Companion by Minitab