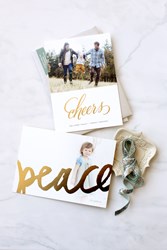 San Francisco, CA (PRWEB) September 20, 2013
Minted (http://www.minted.com), the global design community and e-commerce site, today introduced first-of-their-kind foil-pressed photo holiday cards. Hand-pressed with real gold and silver foil, these cards are exclusively available at Minted.
To create foil-pressed photo cards, Minted applied real foil onto photo cards, leaving an elegant silver or gold leaf finish. Each card interweaves gold or silver foil with the customers digitally-printed photo and Minteds renowned indie designs to create a truly unique holiday card.
Our foil-pressed holiday cards are beyond stunning, and available exclusively at Minted, said Mariam Naficy, Minted CEO. Combined with our unparalleled design, they capture the sparkle and special moments of the holiday season and make an unforgettable impression.
Minted is offering 54 foil-pressed holiday card designs this season, all designed by independent graphic designers from around the world. Customers may choose from a variety of holiday greetings, design styles, and colors. Foil-pressed cards are accessibly priced at $ 1.98 per card for a quantity of 100. By comparison, Minteds standard holiday photo cards are priced at $ 1.63 per card for a quantity of 100.
Foil-pressed cards are available on Minteds Signature Paper, which is the thickest in the photo card industry at 17 points; its 30 percent cotton content adds a luxurious, soft texture usually reserved for fine stationery.
Foil-pressed holiday cards are available now at: http://www.minted.com/foil-stamped-holiday-cards
About Minted:
Minted is a venture-backed design community and e-commerce site, crowd-sourcing graphic designs and content from a global design community and selling those as premium printed products focused on the $ 10 billion stationery market, the $ 48 billion wall art market, and the $ 7 billion party d