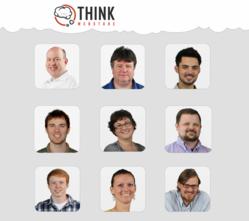 Ridgeland, MS (PRWEB) January 10, 2013
Think Webstore has experienced consecutive annual growth every year since its founding in 2008. After nearly five years in business, Think Webstore is officially a one million dollar business. And, they have become successful in a challenging economy by helping other rising companies do the same using creative, yet practical methods to spur client growth.
Think Webstore is known for its unique approach to marketing and advertising. Think offers a unique blend of disciplines and combines digital, print and other media to create a one-stop shop for marketing, advertising, PR, website design, hosting, television, radio and print production. Think also publishes with multiple media outlets, providing clients with outstanding opportunities to be the subject of television interviews, radio programming and published articles. The goal is always to help businesses succeed. Think Webstore clients range from local businesses to multi-million dollar corporations.
Owner and President, Bryan Carter, attributes the success of Think Webstore to its combination of business consulting, technology, marketing and design, along with its client success stories and aggressive pricing. Says Carter, We provide an environment unique to our area. We have always been known for website design, SEO and social media, and now customers are seeing the other great work we do in broadcast commercials, public relations and publishing.
When asked about future growth, Carter says that they are very pleased with their success and plan to keep doing what they are doing — making it easy for clients. Carter explains, We apply psychologically based strategies and principles to all of our client work. The result is common sense approaches to complex client needs. What seems complicated comes across as easy.
Another prime example of Think Webstores commitment to making it easy for clients is their recent expansion. Think Webstore added additional space that includes offices and a studio for photography and video. This simplifies the visual production process by allowing additional production elements to be handled in-house. Carter says, … handling production in-house is always our goal. It gives us full control and accountability.
At a time when we reflect on businesses that have struggled and those that have failed in a struggling economy, it is good to reflect on a business that has grown. Bryan Carter acknowledges the impact that the economic depression had on his business plan but credits talent, hard work, perseverance and reinvestment as the factors that have not only seen them through a down economy, but have allowed Think Webstore to grow from a startup website design company in Ridgeland, Mississippi with three employees to a million dollar company.
For more information, visit http://www.thinkwebstore.com.
About Think Webstore:

Located in Ridgeland, Mississippi, Think Webstore is a full service marketing and media company, offering website design and development, social marketing, PR, search engine optimization, logo design, branding, print design and broadcast production. Think Webstore clients range from local businesses to multi-million dollar corporations. For more information on how your company can take advantage of Think Webstores expertise visit thinkwebstore.com.