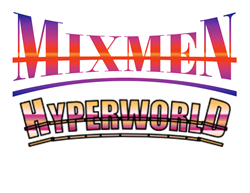 Lock Haven, PA (PRWEB) November 03, 2014
MixmeN Hyperworld is a science fiction comic book like no other. A creation of MixMinds LLC, based in Lock Haven, Penn., this new comic book has depth, passion, excitement, and intrigue.
It can be appreciated on many different levels, explained McHenry, the lead creator of MixmeN. I think people of all ages will enjoy MixmeN Hyperworld and find something they can relate to.
Hyperworld is a planet created by powerful beings known as the Imperium. The planet's sole purpose is to hold intergalactic prisoners of an overzealous, zero-tolerance justice system. The prisoners live, raise families and die on Hyperworld, a self-sustaining planet that rules itself and adapts as needed.
The prisoners could never leave.
After 1,000 cycles of life, no one currently knows that this was originally a planet created as a prison. The original prisoners lived and died. Now this is just home, a dangerous home with deadly beasts and constant threats of the villainous Vec but home nonetheless.
The plot begins with the introduction of Takota, a newly created leader of the Prone, protectors of the people who stand up for their rights to freedom. The Prone are the heroes of Hyperworld and have many enemies, including the Vec, who will stop at nothing to rule the planet and destroy all that oppose them.
Another group on the planet is the Trell, a mysterious band of powerful beings who remain neutral, allowing them to successfully manipulate both sides to acquire the knowledge they seek while maintaining a delicate balance between the factions.
MixmeN Hyperworld is a fascinating concept and very different from other comic books. The story lines and characters are fully developed but MixMinds LLC needs additional funding to make this project a reality.
MixMinds is looking for $ 3,900 to pay an artist, letterer and editors as well as copyrighting and trademark fees. In order to generate this capital, MixMinds has launched a Kickstarter campaign, which can be viewed at http://www.kickstarter.com/projects/333785639/mixmen-hyperworld-take-2.
Donations of any amount are welcome. For $ 5, backers can receive a downloadable PDF version of the new comic book. A $ 10 pledge is rewarded with a physical copy of the book, signed by the artist, Seth Young. For a $ 125 contribution, you can have a brief cameo in the actual comic itself where you will meet a gruesome end by the beasts and villains of Hyperworld.
Other perks are also available for a variety of donations.

Were hoping that comic book fans from all over the country will support this effort and help make MixmeN Hyperworld a reality, McHenry said. People can get in on the ground floor of a really exciting project.
We are going to push hard to become published through a larger publishing house but we have to start somewhere and prove there is interest in this new concept.
Our long-term goal is that our toy line, card game, board game, and console game become available to the public in stores. Prototypes of most of these products have been developed. When we become better known, we can begin production of these items.
For additional information, visit http://www.kickstarter.com/projects/333785639/mixmen-hyperworld-take-2 or the MixmeN Hyperworld Facebook page, http://www.facebook.com/mixminds.
Mr. McHenry can be reached directly at Mixminds(at)yahoo(dot)com.