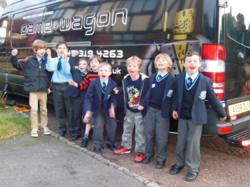 London, Home Counties (PRWEB UK) 8 February 2013
85%* of customers are shown to be not merely happy with their Gamewagon experience, but are active Gamewagon promoters.
John Lilley said, We take customer satisfaction very seriously, with the overall aim of delighting customers with every event from first contact to follow up. It is Johns passion for customer satisfaction and learning from customer feedback that led to the introduction of the NPS methodology at Gamewagon.
The NPS methodology is a well-known measure based around what has become known as the ultimate question. How likely are you to refer a companies product or service to a friend or colleague? The methodology has some critics but the Gamewagon CEO believes it is more than just about the score.
Mr Lilley went on to say, Although we are proud of the score, as it is a simple measure that our whole business can get behind, we understand that it is the whole methodology that makes the difference.
With systematic feedback within 48hrs of every event, Gamewagon gets feedback directly from their customers. The survey used explores the following; What they did well? What they enjoyed? What they did not enjoy? Where they could do better? Then the ultimate accolade How likely are they to refer Gamewagon to a friend or colleague?
By delivering on every aspect of its brand promise, Gamewagon, the UK's leading mobile video game events provider has successfully transformed more customers into active company promoters than they could have hoped for.
The company today announced a record average Net Promoter Score (NPS) of 85%(1)
The NPS methodology, conceived by eminent Harvard economist Fred Reichheld, holds companies and their employees accountable for how they treat customers and has been embraced by leading companies worldwide as the standard for measuring and improving customer loyalty.(2)
John Lilley, CEO at Gamewagon further commented on the results based on his experience in other businesses: "The average company has a score of only 5-10%, this basically means the number of customers who actively promote the brand (promoters) barely outnumbers the people who are not happy with the brand (detractors).
Companies that are able to really generate profitable growth achieve an NPS rating of between 50 to 80%. Why profitable growth? Because they do not have to spend as much on marketing, they have active promoters spreading the brand through word of mouth. With a net promoter score of 85%, Gamewagon creates far more active promoters than detractors. This is testament to our exceptional staff that really do what it takes to make every event a unique experience."
Lilley also explained, Initially, we received feedback that on occasions some 2-player video games leave some kids waiting their turn. We did not like that; we believe that everyone should be involved and having fun.
We got our heads together and maximised the 4-player games being used and also added PS Vita and iPads to the gamewagons to make sure we could satisfy the different tastes that kids have in the video games they play.
What about the future of the video gaming industry that seems to shrouded in anticipation and rumour?
Lilley states, There is no doubt that mobile gaming has a big part to play in the future video game market. The Nintendo Wii has generated a huge user base of family orientated gamers.
With Playstation, XBOX and even new consoles like the Ouya being released shortly there is much for us to consider in giving families a social video game experience to remember. We are listening and that is a little difference that means a great deal to our customers.
Notes:

(1) Average Net Promoter Score taken from post-project surveys carried out September 2012 – January 2013.
(2) Net promoters being respondents who would actively promote the company.
Background to the NPS:

NPS is based on the fundamental perspective that every company's customers can be divided into three categories: Promoters, Passives, and Detractors.
By asking one simple question – How likely is it that you would you recommend Gamewagon to a friend or colleague? Customers respond on a 0-to-10 point rating scale and are categorised as follows:
Promoters (score 9-10) are loyal enthusiasts who will keep buying and refer others, fueling growth.

Passives (score 7-8) are satisfied but unenthusiastic customers who are vulnerable to competitive offerings.

Detractors (score 0-6) are unhappy customers who can damage your brand and impede growth through negative word-of-mouth.