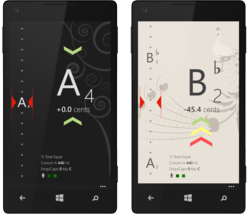 Melbourne, Victoria, Australia (PRWEB) March 08, 2013
Burnt Fuse has recently released modTuner Pro for Windows Phone 8 (WP8), a modern take on a musical instrument tuner, to take full advantage of Windows Phone 8s modern and elegant User Interface design. To help celebrate the recent launch of modTuner Pro for WP8, Burnt Fuse is making modTuner Pro FREE on the Windows Phone Store until 18 March 2013 (normally USD 2.99).
modTuner Pro has all the tools a musician needs to easily keep a musical instrument in tune and help make them sound good. With Windows Phone 8, modTuner Pro also has what musicians need to look good while tuning up.
modTuner Pro is a fully featured professional chromatic tuner with drop/capo and transposition tuning, concert A calibration, 44 tuning temperaments (including Pythagorean for tuning orchestral strings in perfect fifths), a noise filter and high sensitivity mode.
modTuner Pro for Windows 8 uses the same advanced pitch detection algorithm used in modTuner Pro for Windows 8 desktops, notebooks and tablets. The algorithm is capable of reliably and accurately detecting the entire pitch range of an 88 key piano from A0 to C8, which will cover double basses, guitars, ukuleles and violins through to piccolos, said Felix Thiang, Managing Director of Burnt Fuse.
Being a Windows Phone 8 user and a musician myself, Im particularly proud of modTuner Pros visual design which is unique when compared to other existing tuner apps. We wanted our users to pull out modTuner Pro on their sleek new Windows Phone and be proud to show it off while tuning their instruments.
modTuner Pro for WP8 is currently available on the Windows Phone Store for FREE until 18 March 2013 (normally USD2.99).
modTuner Pro for WP8 on the Windows Phone Store: http://www.windowsphone.com/en-au/store/app/modtuner-pro/36bc01d8-c627-4222-9991-d0738768c9a9
Other Youtube videos:

modTuner Pro detecting notes from A0 to C8: http://youtu.be/12THcO28BrI
Join us on Facebook for support, feedback and up to date news on our related products: http://www.facebook.com/burntfuseapps