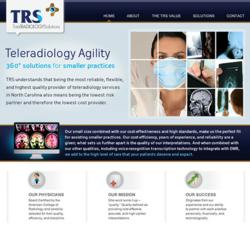 Raleigh, NC (PRWEB) January 09, 2013
Momentum 18 design boutique was recently awarded six American Graphic Design Awards. Designer Matt Chansky won in both the logo design and web design categories with three logo designs, two web designs, and one blog design. By winning, Matt placed the Momentum 18 design boutique among many of the nations top ad agencies and design firms. The winning works were also featured in the winter publication of Graphic Design USA magazine.
This is the third year in a row that Momentum 18 has been represented in the American Design Awards. This years six wins are the most of any year. The healthy cache of wins for a small firm reflects the very high standards that designer Matt Chansky has set. Momentum 18 maintains the working philosophy that businesses, particularly small and medium sized businesses, with truly noteworthy collateral have the decided edge. Momentum 18 works with small and medium size businesses as well as the occasional Fortune 500 and has been part of numerous "David achieving more than Goliath successes, as Matt Chansky puts it. Excellence and focus are the building-blocks for continual success. When this frame of mind joins with like-minded clients I see truly amazing results," commented Chansky.
Graphic Design USA (GD USA) is one of the nations most prominent and recognized graphic design magazines with a history spanning over decades. Every year, GD USA gathers a panel of national graphic design experts to judge entries from the graphic arts community including graphic design firms, advertising agencies, in-house corporate designers, publishers, and other media. The magazine has been honoring outstanding new graphic design work for nearly 50 years.
2012 was another successful year for Matt and Momentum 18. More of Matts work will be featured in the next edition of the LogoLounge Master Library Series. In addition, Momentum 18s clients achieved strong success this yearadding jobs into the economy and breaking profit records.
About Momentum 18

Momentum 18, The Work of Matt Chansky (http://www.momentum18.com) specializes in established business rebranding projects as well as new business branding. Specific services include custom web design, logo design, the spectrum of print marketing collateral, trade show design, and Local SEO. Momentum 18 was established a decade ago and its reputation continues to grow as trustworthy name. Momentum 18 is the very definition of a hands on boutique. Said Matt Chansky, I continue to be committed to excellence in design and results-oriented business strategies. Additionally, I provide a high-level of concierge-like client support. Clients appreciate the extra-mile mentality and Im so grateful that they continue to sustain Momentum 18.
Visit momentum18.com to learn more about Matts business and design philosophies and to view the extensive portfolios.