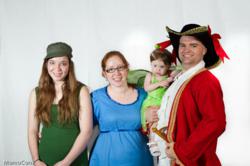 Atlanta, GA (PRWEB) February 28, 2013
Atlantas family friendly Anime, Animation, and Gaming convention, returns with MomoCon 2013, March 8-10. Providing family entertainment has always been a key component of MomoCon, but this year the organization has taken it a step further and brought in Jessica Parker as MomoCon Family Programming Director. Her role impacts all aspects of the show such as gaming, anime and animation panels, events, concerts, and the wide range of activities available to MomoCon attendees.
From the beginning, MomoCon has always striven to be a fan convention that is open to all ages, said Parker. And, we want to build on that by building a team focused on the needs of families. MomoCon's average attendee age is 17-18, and that impacts how the event is planned. In the past few years, we've added programming that is specifically focused on a family and/or younger audience, including separate youth divisions for our Costume Contests. MomoCon has all-ages appropriate panels and programming.
Parents taking their children to a anime convention for the first time can expect a lot of activity, but all of it wholesome and fun. There will be costume contests, panels on a wide range of topics, and a wide variety of costumes. Whether you're bringing your children for their interests, or your children are coming to partake in your interests, MomoCon has a lot to offer, said Parker. Utilize the tools we provide on our website (http://www.momocon.com) and our social media sites to plan your weekend in advance. Have tons of fun, and be ready for LOTS of costumes!
This year MomoCons successful mobile app returns and is available on iTunes and Google Play.
All successful conventions can become crowded, but the MomoCon has implemented a proven method of crowd control that will alleviate congestion. Said Parker, we learn and grow from every event and use that experience to improve. We are always brainstorming ways to keep things fun and safe.
What: