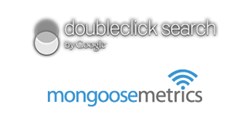 Independence, OH (PRWEB) November 01, 2013
Mongoose Metrics, a provider of call tracking, measurement and attribution solutions for digital marketers, has announced the availability of an integration with DoubleClick Search.
Display ads and paid search often take up a significant portion of any online advertising budget, said Matt Fay, Senior Business Development Manager at Mongoose Metrics. As advertisers and marketers are always presented with the challenge to show the value for their ad spend, having the ability to track not just online conversions, but those made offline becomes increasingly important.
When DoubleClick is used in conjunction with a session-based Mongoose Metrics product; the Mongoose Metrics database will dynamically capture the DoubleClick ID associated with that ad, and in the event a phone call is made, allow users to attribute that specific campaign to that offline phone call. Advertisers and marketers will now be able to associate calls back to those DoubleClick ads, track any resulting conversions, and incorporate this data into their bid management business rules.
In the case that Mongoose Metrics is integrated with a CRM such as Salesforce, as well as DoubleClick, any resulting revenues from those phone calls can also be attributed back to the ad that drove it in.
Having the ability to integrate call conversion data into a bid management platform, CRM system and marketing optimization tools helps to refine budgets, drive greater ROI and optimization of search, display and referral traffic initiatives, added Fay.
For more information on DoubleClick and other integration opportunities with Mongoose Metrics, call 216-920-6402.
About Mongoose Metrics
Mongoose Metrics, headquartered in Independence, Ohio, is the leader in call tracking, call measurement, and attribution. Founded in 2007, Mongoose Metrics technology provides marketers with a complete view of the customer journey, giving insight into conversions that are driven by digital tactics like SEM, but convert in the call center. This enhanced view of digital marketing effectiveness allows marketers to better allocate their budgets and understand, at a granular keyword level, what is driving conversions. Our clients range from Fortune 500 to small and medium businesses across North America.