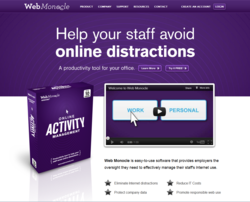 (PRWEB) June 05, 2012
Monocle Solutions Inc., a Toronto-based software manufacturer, announced today the launch of Web Monocle, new software designed to improve productivity in the workplace. Web Monocle allows employees to manage their own online behavior without compromising privacy. At the same time, it gives business owners the ability to review workers web activities and potentially alter their management approach based on the information they receive.
Our goal is to make this software very simple to use, its a two minute installation that does not require any additional IT hardware or support. Rather than spying on employees or blocking websites, Web Monocle tackles the problem of productivity by empowering employees to make their own decisions online, and it allows them to self-review through weekly reports," says John Madden, Web Monocle CEO.
Monocle Solutions Inc. believes this system will encourage employees to re-evaluate their Internet usage and reinforce the understanding that they are browsing on company time. Employees are given a simple choice when they visit a website for the first time: Work or Personal', which allows them to classify work-related and personal interest websites accordingly.
With Web Monocle, employees and managers receive weekly reports outlining most visited websites and viewing trends broken down by category. These simple reports also flag any potential issues as they relate to specific departments. For example, while Facebook may be a great tool for marketing, it is probably a personal interest site for a company engineer.
The software accurately tracks an individuals web usage, disregarding any idle time spent on websites. It also works in combination with an Internet Usage Policy, which Web Monocle provides free of charge on their website.
Monocle Solutions Inc. beta tested the product for over 6 months and has recently partnered with Royal LePage Your Community Realty.
We became the number one real-estate office in Canada by having employees focused and motivated. Web Monocle allows my staff to self-manage and remain productive in a busy environment, and the emailed reports help me review activities while Im on the road. Daryl King, Royal LePage Your Community Realty
Monocle Solutions Inc. is currently developing the mobile application of Web Monocle as well as the home edition of the product.
About Monocle Solutions Inc.

Monocle Solutions Inc. stemmed from a unique approach to web safety. Over the past four years, through its non-profit extension Kiwi Seminars, Monocle Solutions Inc. has established itself as a leader in educating and providing solutions for ongoing Internet use issues. Their current mission is to develop products that improve productivity by deploying innovative and non-complex software, primarily catering to SMEs, educational institutions and home users.
Web Monocle is being distributed through Synnex in Canada and will be appearing on store shelves in the near future. Download a free Internet Usage Policy, try Web Monocle free or find a local reseller on their website: http://www.webmonocle.com