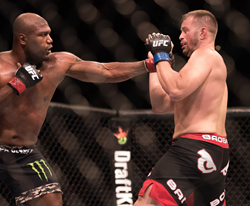 Corona, California (PRWEB) April 27, 2015
Monster Energys Quinton Rampage Jackson was fired up after a lopsided decision win against Fabio Maldonado in the co-main event of UFC 186 on Saturday.
Jackson came out strong in Montreal, Quebec, Canada showcasing a more dynamic skill set and out-striking the former boxer Maldonado with his hands, while landing sharp knees and debilitating leg kicks to the tough Brazilians body. Jacksons boxing was crisp and tight, and while he unleashed his infamous left hook, he also flashed powerful jabs, alongside kicks to Maldonados lead leg and body, and a couple of first-ever head kicks.
I just learned head kicks like ten weeks ago, said Jackson. They didnt land, but they gave him something else to think about.
Maldonado is famous for taking punishment and suffering through it, and called Rampage on to attack Jackson stayed calm and composed executing a near perfect striking clinic, including powerful knees and sneaky uppercuts from the clinch. After training harder than he had trained in years, a fit and dynamic Jackson easily won a unanimous three-round decision with scores of 29-28, and 30-27 twice, upping his career stats to 36 wins and 11 losses.
I was in the best shape I have been in, said Jackson. My skills were sharp and I had great energy. But, Ive got to give it up to Maldonado he has a head of steal and wouldnt go down. I cant wait to get back in the Octagon to showcase some more of the stuff I have been working on. I want to thank the fans and my sponsor Monster Energy for always having my back Im a monster baby!"
For more on Rampage visit http://www.monsterenergy.com.
###
About Monster Energy

Based in Corona, California, Monster Energy is the leading marketer and distributor of energy drinks and alternative beverages. Refusing to acknowledge the traditional, Monster Energy supports the scene and sport. Whether motocross, off-road, NASCAR, MMA, BMX, surf, snowboard, ski, skateboard, or the rock and roll lifestyle, Monster Energy is a brand that believes in authenticity and the core of what its sports, athletes and musicians represent. More than a drink, its the way of life lived by athletes, sports, bands, believers and fans. See more about Monster Energy including all of its drinks at http://www.monsterenergy.com.