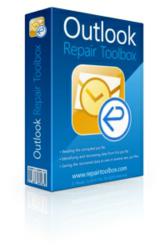 Sacramento, CA (PRWEB) March 07, 2013
Repair Toolbox gladly announces the release of a new version of Outlook Repair Toolbox, its bestselling Outlook repair tool. The data recovery engine of the software has been considerably enhanced to offer users more speed, stability and recovery efficiency. This Outlook repair solution opens and repairs even seriously damaged Outlook PST and OST files after virus attacks, hardware failures and other incidents affecting the files system. Internal benchmarks conducted by the program manufacturer showed its considerable advantage over competing products, both in terms of speed and the number of items extracted from damaged files / how to repair description /.
The new version of Outlook Repair Toolbox has the same convenient and self-explanatory interface that thousands of users have come to like. The program recovers all types of objects stored in Outlook PST files, including email messages, attachments, notes, contracts, journal and calendar entries, alerts and folders. Recovered messages can be saved as EML or MSG files in plain text, HTML or RTF formats. This Outlook repair tool supports data recovery from PST/OST files of over 2 GB in size, works with Unicode and ANSII PST files, password-protected files and enables users to specify files and folders to be recovered.
We are glad to have improved this tool to the point where it can be called the very best Outlook repair solution on the market. Outlook Repair Toolbox is one of our most popular products and we pay lots of attention to keeping it up-to-date, rock-stable and ultimately efficient, explains Ivan Bobrov, senior product manager at Repair Outlook.