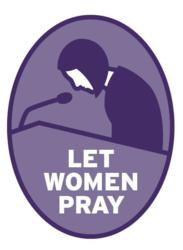 Salt Lake City, UT (PRWEB) January 17, 2013
All Enlisted, a group of Mormon feminists, has launched a letter-writing project to the LDS Church headquarters asking officials to invite women to pray in General Conference, the semi-annual gathering of The Church of Jesus Christ of Latter-day Saints.
In 1978, LDS Church officials stated, it is permissible for sisters to offer prayers in any meetings they attend. (Ensign, 1978, News of the Church) Despite this statement, no woman has ever prayed in the April or October General Conferences.
All Enlisted's letter-writing project invites Mormons to write or email a letter by February 22, 2013 asking the LDS Church leadership to invite women to pray in General Conference. Letters can be mailed to: Let Women Pray, PO Box 3833, Salt Lake City, UT 84110 or emailed to letwomenpray(at)gmail(dot)com. Letters and emails will be hand delivered by All Enlisted participants to six General Authorities and Auxiliary leaders.
"The idea of giving a woman the opportunity to pray on behalf of the entire membership of the church is so inspiring to me, says Analisa Estrada, Graphic Designer for the Let Women Pray team, the group responsible for the letter writing project.
Allowing women to pray in General Conference would underscore the Churchs doctrine that women and men are equal, said Amber Whiteley, another member of the group.
According to the churchs website, During general conference weekend, Church members and others gather worldwide in a series of two-hour sessions to receive inspiration and instruction from Church leaders. Over 100,000 people attend General Conference in the Salt Lake City, Utah Conference Center while a broadcast of the Conference is viewed by people from 197 countries and territories and is translated into 93 languages. Of the 183 semiannual General Conferences the LDS Church has held, no woman has ever been allowed to pray during the General Conferences.