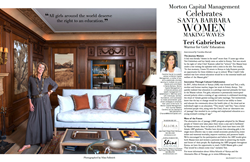 Santa Barbara, CA (PRWEB) April 30, 2015
Morton Capital Management, recognized by Barrons Magazine as a Top 100 Independent Financial Advisor,* announced today a year-long campaign recognizing Santa Barbara women who are making a dramatic social impact locally and abroad. Beginning in May 2015, six Santa Barbara women will be recognized who demonstrate the power of compassion, innovation and collaboration to create new models for improved social outcomes. The campaign will offer inspiration to women pursuing their own dreams.
Morton Capital Management has partnered with Santa Barbara Life & Style Magazine, luxury Montecito boutique Allora by Laura, and Shine Blow Dry Bar to produce bimonthly fashion spreads over the course of a 12-month period that profile Santa Barbara women making waves around the world and locally. Representing a diversity of backgrounds and experience, each woman featured will embody the courageous pursuit of challenging the status quo and creating positive social change. Professionally photographed and styled, images will reflect each womans individualism and personal sense of style. Stories accompanying the features will describe the honorees journeys, offering insights that others might use in their own philanthropic, creative and business pursuits.
Santa Barbara is unique in many ways but most significantly in its fervent desire to give back, said Morton Capital Management Co-President Meghan Pinchuk. As a woman working to grow my own firm and company culture, I believe its important to celebrate one anothers successes. There is much we can learn from each other, particularly from those who can think outside of the box to improve our community and world.
Morton Capital has announced its first honoree, Teri Gabrielsen, in a separate release. Teri is a former educator, wife, mother, and founder of Africa Schools of Kenya (ASK). During a life-changing trip to Africa over 15 years ago, Teri decided to dedicate her time and resources to help the Maasai children in Esiteti, Kenya, obtain access to formal education. She realized that through the power of knowledge, the Maasai people gained a better understanding of health and human rights, allowing them to better their entire community.
To make a nomination for the Women Making Waves campaign, please contact Caroline Harrah, a wealth advisor at Morton Capital Management at 805-259-9379 or CHarrah(at)MortonCapital(dot)com.
About Morton Capital Management
Morton Capital Management is a financial advisory and wealth management firm established in 1983 that works with individuals, families, foundations and businesses to create personalized, goal-driven strategies to empower their vision of the future. Morton Capital Management, based in Santa Barbara and Calabasas, manages over $ 1.4 billion in assets (as of 12/31/2014) for over 700 clients. For more information, go to http://www.MortonCapital.com or contact Caroline Harrah, Wealth Advisor, at 805-259-9379 or CHarrah(at)MortonCapital(dot)com. *Barron's ranking reflects the volume of assets overseen by the advisors and their teams, revenues generated for the firms and the quality of the advisors' practices. Only firms that submit information are considered.