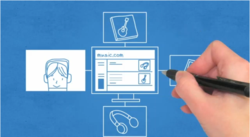 Anaheim, CA (PRWEB) February 05, 2013
MOV Digital Media announces Instant ID, a next generation solution that creates real time relevance for online shoppers. The systems unique ability to help marketers dynamically change site content based on the real time delivery of each visitors unique attributes has proven to increase both conversion rates and shopping cart value to MOV Digital Medias clients using the platform. Our digital marketing customers have challenged us to create more site visitor relevance within their e-commerce pages. Instant ID enables the immediate delivery of customized messaging and product positioning based on the real time delivery of more than 600 demo and psychographic attributes during the course of the consumers site visit. We believe online consumers are unique individuals and have built a solution that treats them that way. Kevin Voigt, EVP Sales & Marketing, MOV Digital Media.
About the Company: MOV Digital Media provides next generation solutions for companies looking to Maximize, Optimize and Visualize their marketing messages and targets. MOV Digital Media solutions do not require a tear down of current infrastructure and were built to be additive to existing marketing efforts. The MOV Digital Media reporting suite sheds light on formerly anonymous site visitors and provides an actionable lead generation program for companies looking to increase market share. Mobile solutions, Social Media, Web Design and SEO are table stakes in todays marketing landscape. Only MOV Digital Media integrates these tools in a dynamic fashion enabling cross channel discipline to leverage the client's existing e-footprint. For more information call 714-829-2762 or email info@movdigitalmedia.com
Online Marketing Summit (OMS) connects marketers with the knowledge, experts and technologies transforming digital marketing. OMS provides expert-led education and collaborative engagement on the latest insights, best practices and strategies in digital marketing. This approach is fused with the contextual relevance for how digital marketing influences and impacts marketing and business at-large, enabling practitioners to immediately create greater impact within their organization and with their audiences. For more information, visit http://www.onlinemarketingsummit.com.
Contact: kevin@movdigitalmedia.com