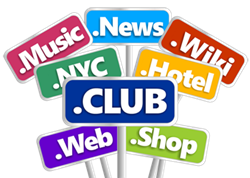 Fitchburg, WI (PRWEB) October 14, 2013
A Top Level Domain (TLD) is the text to the right of the final dot in a domain name. For example, .Com is the most popular TLD today.
There are currently just 22 generic TLDs – like .Com and .Biz – from which to choose when purchasing a domain name. In 2012, ICANN held an application round inviting companies from around the world to apply for, well, .Anything. Over 1,900 applications for new TLDs were filed during the historic 2012 application round for everything from .Hilton and .Chevy to .Vegas and .Music.
DotAnything.co will be featuring one new TLD per week in our 10-week series on some of the most popular new TLDs. This weeks featured TLD: The .Club TLD.
There were originally three applications filed by companies seeking to create the .Club TLD: Koko Manor, LLC (a Donuts company), Merchant Law Group LLP (a Canadian Law firm) and .Club Domains, LLC. A private auction was held between the parties in June 2013 and .CLUB Domains won the auction. After the auction both Donuts and Mechant Law withdrew their applications for .CLUB, leaving .CLUB Domains as the only applicant.
DotAnything.co recently had a chance to sit down with Jo-John Torres, Business Development Manager at .Club Domains, LLC for a little Q&A session.
DotAnything: Can you tell us a little about your story – what made you decide to go after the .Club Top Level Domain?
.Club Domains, LLC: "One of the reasons we chose to pursue .CLUB is that the word Club has the same spelling and meaning around the world. We see .CLUB as a mainstream global brand and have devoted all of our resources to .CLUB. It is the only gTLD we applied for. We believe the appeal of .club is widespread. If we look at the word club today, there are all kinds of existing clubs from Book clubs to Motorcycle clubs to Chess clubs. In addition, today, club groups are found layered underneath social media sites like Facebook, LinkedIn, Yahoo and Google, where there are millions of groups that are really just clubs people coming together around a common interest or passion. Wouldnt it be easier for all these groups to have its own .Club domain name?
We also see .club domains in business and retail. Many retailers already refer to their loyalty and affinity programs as "clubs" and so .Club becomes a great domain for their loyalty and affinity programs and maintaining their customer communities. An example would be the Safeway Club Card where their members can to go to a club site as Safeway.club instead of going to a long address, Safeway.com/ShopStores/Club-Card.page, for their club membership site."
DotAnything: .Club Domains, LLC has partnered with Neustar for Registry services. Would you like to share a few words with us about that?
.Club Domains, LLC: "Yes, we are partnered with NeuStar. Neustar serves as our technical backend and is a trusted partner. Registrars who have connected with Neustar in the past will have a very easy time setting themselves up to offer .CLUB domain names."
DotAnything: .Club Domains, LLC participated in the very first auction with Innovative Auctions – can you reveal the amount that you paid for .Club?
.Club Domains, LLC: "As you know, there were initially three applicants for .CLUB, including us, Donuts and Merchant Law Group. In June we all agreed to participate in the first private auction for new gTLDs and I am happy to say that .CLUB Domains won the auction. The amount we paid is confidential, but I can say that it was somewhere in the millions of dollars. Overall, we have raised $ 8.2 million from investors to acquire the name and operate the .CLUB business."
DotAnything: Has .Club passed pre-delegation testing yet?
.Club Domains, LLC: "We have passed initial evaluation and are in the middle of the contracting process. Pre-delegation testing will occur after the contract stage has been competed."
DotAnything: When can we expect domain names in the new .Club TLD to go on sale?
.Club Domains, LLC: "We are ready as soon as the ICANN process is complete. We expect our copyright Sunrise period to begin during the first quarter of 2014. We will be holding a 60 day Sunrise, followed by a 60 day Land Rush period, and then we go into General Availability where anyone can purchase a domain with .CLUB. We have consistently been in the Top 20 of most pre-registrations sites and we will likely be the first Top 20 generic TLD to come to market."
We know we cant wait to see HOG.Club. Pre-register for your domain in the .Club TLD today!