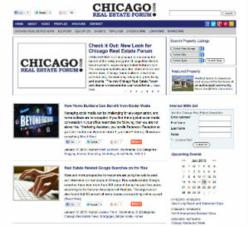 Chicago, IL (PRWEB) January 21, 2013
mRELEVANCE, LLC announces the launch of the newly designed Chicago Real Estate Forum website, http://www.chicagorealestateforum.com. The revamped website provides information on real estate news, the economy, education, green living and events.
The new design provides an unprecedented user experience through easier navigation and a new search function to help visitors find Chicago real estate, stated Mitch Levinson, managing partner of mRELEVANCE and creator of Chicago Real Estate Forum. The site is also a lot faster, which means quicker load time for users.
Elements added to the redesigned website include an upcoming events calendar that gives a list of local real estate related events and links to their descriptions, a featured property box that provides details on popular homes, a special articles of interest section, as well as a property listing search for the entire greater Chicago metro area.
In addition to local real estate news and home listings, the website is fully integrated with Chicago Real Estate Forums social media sites including Facebook, Twitter, Google+ and Pinterest. Visitors can also sign up to receive updates from the websites RSS Feed and subscribe to the Chicago Real Estate newsletter.
Chicago Real Estate Forum is a blog dedicated to promoting Chicago real estate news and trends. The website accepts advertisements and currently has multiple contributors from the Chicago real estate industry. The blog covers industry news via its team of reporters. Non-profit news is covered as a community service.
To learn more about how mRELEVANCE can create a blog, website or assist you in developing other interactive marketing tools for your business, visit http://www.marketingrelevance.com.
About mRELEVANCE: mRELEVANCE, LLC creates relevant marketing and communications that reach audiences with focused and strategic messages. Through technology and creative content, messages are delivered to target markets to encourage customer action and interaction.
With offices in Atlanta and Chicago, mRELEVANCE can connect your company with buyers and build relevant relationships nationwide. For more information, Like us on Facebook at http://www.Facebook.com/mRELEVANCE, Follow us on Twitter at @mRELEVANCE or call 770-383-3360 or 847-259-7312.