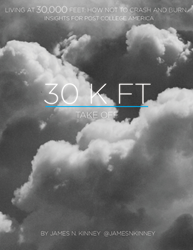 Los Angeles, CA (PRWEB) November 15, 2014
"Living at 30kFT: How Not to Crash and Burn", written by James N. Kinney, the entrepreneur behind technology platform 30kFT, is now available worldwide.
Living at 30kFt is sure to provide audiences with a comedic and pragmatic approach to career success and life after college. Author James N. Kinney weaves together business strategy, holistic living and pop culture into key takeaways that give the reader easy to follow tips for effective living. Throughout the book, Kinney explores fitness, stress, social media, and many hot topics of today's workforce. He relates to the reader by incorporating hip-hop and rock song lyrics, while poking fun at pop icons. Written with hashtags and social media abbreviations, Living at 30kFt is easily understood by today's distracted workforce.
"I am beyond excited to release Living at 30kFt, says Kinney. Depression, anxiety, fitness and health for post college America are crucial topics that deserve attention. Corporate wellness and a thriving American business climate is how we move forward."
The book is now available to purchase for $ 9.99 on the following online retailers: iBookstore, Amazon Kindle, Barnes & Noble, Kobo, Baker & Taylor, Copia, Gardners, eSentral, Scribd, Goodreads, Oyster, Flipkart, Ciando.
ABOUT JAMES N. KINNEY

After learning how to walk again due to a near fatal car accident and overcoming crippling anxiety and depression during his career on Wall Street, James Kinney developed an obsession for what he calls a holistic approach to business performance. Kinney, a diversified serial entrepreneur, author and musician, has grown a 7-figure bi-coastal business group in the past three years. He is the founder of Kinney Group Creative, Kinney Group Events, Good Barbering Company and 30kft.me along with other investments. Kinney has been featured on CNN for his work at SXSW.
Kinney's companies are based in New York and Los Angeles. Kinneys client roster has featured Fiji Water, Forest Whitakers JuntoBox Films, Est