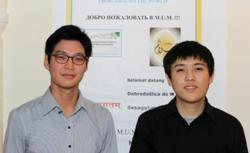 Fairfield, IA (PRWEB) March 09, 2013
Maharishi University Computer Science students were among the 10 finalists in a national collegiate hackathon competition to win a trip to Silicon Valley. During their visit there last week, they met with high-tech leaders from 15 companies.
Hackathons are growing in popularity. Companies like Facebook, Google, and now the White House have employed this strategy to come up with innovative software solutions to problems. Last month, a company called HackerRank announced a national collegiate computer-programming competition. Over 400 students from the nation's top schools participated in the hackathon. Contestants were given 24 hours to complete six challenges. Some of the high-tech companies sponsoring the competition were Amazon, Facebook, Twitter, and Dropbox.
Two students from Maharishi University of Management's Masters in Computer Science program went up against students from tech titans Carnegie Mellon, Harvard, Princeton, Purdue, MIT, University of California-Berkeley, and both made it into the top ten. Khongor Enkhbold placed 5th and Khasan Bold, 7th. The top ten final positions were: three from Berkeley, two each from Harvard and MUM, and one each from UCLA, Purdue, and Nebraska.
All finalists earned an all-expenses-paid trip to Silicon Valley where they met with tech professionals from 15 top companies. They had to sign nondisclosure agreements before entering each company and were not allowed to take any pictures because of work posted on the walls.
We visited about 15 companies, like Facebook, Twitter, LinkedIn, Palantir, Rocket Fuel, OpenTable, Dropbox and others, said Khasan Bold. We saw Mark Zuckerberg and also met with D'Angelo, the CEO and the founder of Quora.
When they visited LinkedIn, they noticed their neighbors, Google and NASA. Khasan remarked on one cool thingGoogle supports the entire city of Mountain View with Wi-Fi. That means we could have accessed Googles Wi-Fi from anywhere in town!
He noted that almost every company they visited provided many games for their employees to play like PlayStation, Foosball, Ping Pong, Billiards, as well as a lot of free food and drinks.
They also took time to speak with employees at Twitter. Khasan said the trip gave him a real quick screenshot of the top US IT companies and hopes it will help him find his future job here in the US.
Khongor and Khasan have won computer-programming competitions before. In 2010, they were on a three-person team that took the championship cup for all of Mongolia. In 2009, they won bronze medals in the ACM International Collegiate Programming Competition, sponsored by IBM, in the Asian region in Shanghai, China. In 2010 and 2011, Khongor also won bronze and silver medals with different teammates at the same venue. When asked why they compete in these events, Khongor replied, "We don't compete because we need to… We compete because we love to!"
Khongor and Khasan heard about Maharishi University from their friends. They applied to the MS in Computer Science because of the unique opportunity MUM affords its students in gaining practical IT experience with high-level US companies, as well as the cutting-edge curriculum offered by the University's top faculty. They also found Fairfield, Iowa to be a peaceful, creative city making it an ideal place to study.
Founded in 1971, Maharishi University of Management (MUM) is a unique private institution that offers Consciousness-Based Education, a traditional academic curriculum enhanced with self-development programs like the Transcendental Meditation