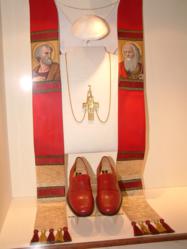 San Juan Capistrano, California (PRWEB) February 05, 2013
IQinVision (http://www.iqeye.com), market leader in high-performance HD megapixel IP cameras, today announced that the Museum of Funeral History, located in Houston, Texas, has deployed an integrated system comprised of advanced Acuity-vct (http://www.acuity-vct.com) video analytics software and an array of IQinVision HD megapixel cameras to protect its many exhibits and priceless artifacts.
The National Museum of Funeral History houses the country's largest collection of funeral service artifacts and features renowned exhibits on one of man's oldest cultural customs. The museum features the mourning rituals of ancient civilizations, authentic items used in the funerals of U.S. Presidents and Vatican Popes, and the rich heritage of the industry which cares for the dead. The museum was recently named one of Ten Places to See in Houston.
In 2008, Bob Boetticher, Vice Chairman and CEO, National Museum of Funeral History, knew that his new papal exhibit was going to dramatically increase museum attendance and he would now have numerous priceless artifacts to safeguard. Bob and a colleague attended the American Association of Museums tradeshow and while walking the floor he discovered Acuity-vcts booth, where he met Dan Lazuta, Acuity-vct Director of Sales.
Dan demonstrated his system, related Boetticher, and basically he had a camera focused on a framed picture. Then using his software, protection zones were placed on designated areas of the picture. If any of these zones were disturbed an alarm immediately went off. We were definitely intrigued and I knew rather quickly we had finally found what wed been looking for. Up to that point, Boetticher and his staff had been purchasing off-the-shelf cameras just to keep an eye on things, but certainly a more sophisticated system was critical going forward.
Im a funeral director by trade, so we brought Acuity-vct in to provide additional demonstrations, set up the system to fit our security and protection needs, and to recommend the right kind of cameras, said Boetticher. We stressed the value of many of the items that would be on display and that it was critical we have extremely clear video. After seeing the quality the IQeye megapixel cameras can deliver you just cant go back to a lesser technology.
At present, the museum has a mix of 52 IQinVision cameras and some of the legacy cameras first installed. When a legacy camera fails, it is replaced by an IQeye camera. Also, four to five additional IQeye cameras are on order as the museum continues to expand the areas under surveillance. Most cameras are deployed inside the museum, but a small number do provide surveillance around the building and for the parking lot.
Most of the museums exhibits are protected by Acuity-vcts advanced motion detection analytics. When a protection zone drawn around an item or exhibit is broken, an alarm immediately sounds as does an audio warning. The museum guard is able to get to the area affected within 30 seconds.
(Click on this link to see Bob Boetticher demonstrate the system

http://www.youtube.com/watch?v=UWhRo0PmAvY&feature=relmfu)
Boetticher explained further, We have a guard on a raised platform as our visitors are walking through the gift shop, so he is clearly evident. The guard is reviewing surveillance images from the IQeye cameras at all times. This system works great. It does exactly what we were told it would do when we bought ityou dont get to say that very often.
He continued, We do get alarms, mostly by the Popemobile, people will lean way over the railing to touch the vehicle. If you set off an alarm, its not by accident the way we have the system designed. So, we take those alarms very seriously. Sometimes a shadow can set off an alarm, but we can easily adjust the software to prevent such false alarms.
Boetticher doesnt just use his Acuity-vct system and his IQinVision cameras to protect the Popemobile. His main office is actually 30 miles away from the museum in downtown Houston, and he can access all the crystal-clear camera views when he wants to catch up with activity at the museum.
The museums parking lot surveillance has proved important in thwarting air conditioner copper theft and helping the police investigate car break-ins that might occur. The museum is co-located with the Commonwealth Institute of Funeral Services so there is a large amount of vehicular traffic. For this reason, the museum recently invested in IQinVision 5 MP Sentinel cameras to provide very high resolution images for an Acuity-vct license plate recognition software system.
Acuity-vct is a first class company, if we ever have an issue, theyre immediately on it. They can tap into the system remotely and makes adjustments and repairs, assessed Boetticher. The quality of the equipment we bought and the service we receive, I am very satisfied. We spend a good bit of money, and its all worth it. The IQeye cameras are clear as a bell and the difference is like night and day from the legacy cameras we had been using. I dont think of this as spending money, its an investment. The investment we made is well worth it because we are buying peace of mind. So many of the items on display, especially within the Papal exhibit, simply cannot be replaced.
About IQinVision

IQinVision has been designing, manufacturing and marketing the IQeye line of HD megapixel IP cameras since 1998. A world leader in IP network camera products, IQinVision is renowned for image quality, stability and reliability in the harshest environments. ONVIF and PSIA compliant, IQeye cameras are integrated with all leading NVRs and are backed by the most comprehensive warranty program in the industry. The companys products are widely deployed in banking/finance, city surveillance, commercial/industrial, critical infrastructure, education, gaming, government/law enforcement, healthcare, retail and transportation applications. IQinVision is a privately-held corporation headquartered in San Juan Capistrano, California with a regional office in Amsterdam, the Netherlands. For more information: http://www.iqeye.com
About Acuity-vct

Acuity-vct has developed the next generation of Video Surveillance called the Video Capture System (VCS). The VCS is a family of highly scalable networked based Video Surveillance systems that have many advanced features when compared to other NVR technology. Acuity-vct is seen as the market leader in the deployment of advanced Video Analytics software in the Museum and Cultural Properties industry. This unique solution protects irreplaceable artifacts at many North American museums by providing a flexible way to define software protection zones within each exhibit under surveillance in any shape or size required. When these protective zones are breached, the software detects the changes in the images, and automatically sounds audio and visual alarms. Acuity-vct was also named the Top Service Organization in America by Solutions Integrator Magazine and has an unblemished record of delivering systems on time and on budget. Founded in 2003, Acuity-vct is a privately held company headquartered in Cleveland, Ohio. For more information: http://www.acuity-vct.com
For Media Queries: