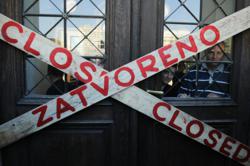 (PRWEB) February 20, 2013
Nearly 100 museums, galleries and libraries in more than 20countries around the world will symbolically "close" objects on exhibit March 4 to raise awareness of the crisis facing the shuttered National Museum of Bosnia-Herzegovina, and six other Bosnian cultural institutions in Bosnia-Herzegovina of national stature that have been indefinitely closed or are under threat as a result of a political fight in the country's federal parliament.
Sarajevo's National Museum, National and University Library, National Art Gallery, the Historical Museum, the Museum of Literature and Theater Arts, the National Film Archive and the National Library for the Blind have all closed or are on the verge of closure during the past year because factions in Bosnia's parliament cannot agree to fund them as national institutions.
"This is a real crisis because the collections, art pieces, and artifacts need care and attention of institutions with electricity, climate and pest control, and paid, professional curators to protect them," said Azra Aksamija, assistant professor of art at the Massachusetts Institute of Technology and a founding member of CULTURESHUTDOWN, an international group of academics and cultural activists coordinating the day of solidarity. "Most of these institutions and their collections survived the war with the heroic help of their curators. Their collections are irreplaceable. To face ruin due to pure political neglect is hard to accept, which is why we're organizing this protest."
Several American cultural institutions are participating in the protest, including the Museum of Modern Art in Chicago, the Crocker Art Museum in Sacramento, Calif., the Frost Art Museum in Coral Springs, Fla., the Rose Art Museum of Brandeis University in Waltham, Mass., the Zimmerli Art Museum in New Brunswick, N.J., the Florida Holocaust Museum in St. Petersburg, Fla., the Museum of Arts and Origins in New York, N.Y., as well as galleries such as the Pitzer College Art Galleries in Claremont, Calif., the SPECTRE Arts in Durham, N.C. and the White Box in New York, N.Y.
Additionally, faculty from different academic institutions in the United States are also supporting this action, such as from the Program in Art, Culture and Technology at MIT, The New School Art Collection in New York, N.Y., the Wentworth Institute of Technology in Boston, Mass., National Louis University in Skokie, Ill., Parsons The New School for Design, Fine Arts Program in New York, N.Y., the University of Illinois-Chicago, Cornell University in Ithaca, N.Y., and the Richard Stockton College, Galloway, N.J. A complete list of the participating institutions can be found at http://www.cultureshutdown.net/participating-institutions/.
Just as the National Museum in Sarajevo barricaded its doors when it was forced to close, these institutions will "tape off" parts of their exhibits to raise awareness of plight of Bosnia's institutions (see accompanying graphics).
"We believe that this show of unity can demonstrate to the parliament that a solution can be found," Aksamija said. "Money isn't the issue and this is not just Bosnia's problem. The world's heritage is at stake."
###