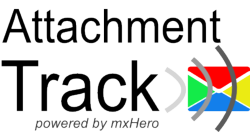 New York, NY (PRWEB) December 28, 2012
The new mxHero extension for Google's Chrome web browser allows Gmail users to send emails with attachments and be notified with the date and time recipients access the included files. Users no longer need to wonder if an attachment was accessed. In this way, for example, a sales executive would know when to follow up after sending a sales proposal to a prospect.
The Attachment Track feature works by allowing users to indicate before sending an email that attachments should be tracked. After sending, the email attachments are removed and stored by mxHero. mxHero then attaches an html file to the email with links to all the stored attachments. Recipients of the email can now access the attachments by clicking on the links. For each file downloaded, the sender receives a notification of who accessed.
mxHero is an authorized Google vendor with several leading apps at Google's app marketplace. The company is developing more than 70 functionalities, some unprecedented in email.
About mxHero:
mxHero Inc. (Delaware, USA) is the creation of IT industry veterans with over 15 years of experience in email specific technologies. It is in commercial deployment by several hosted email providers and in use by many thousands of companies.