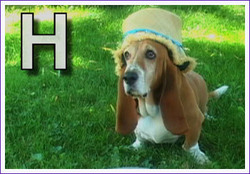 Los Angeles, CA (PRWEB) December 8, 2009
Through the adventures of a live basset hound named Daisy, a group of longtime filmmakers, including one of the executive producers of 'Lost', Jean Higgins, are blazing a new trail in childrens educational entertainment. 'My Daisy Days', the new early childhood educational DVD series boosts pre-school learning, fosters interaction with caregivers
The DVD series for toddlers employs a pared-down story-selling sensibility that marks a fundamental–and fundamentally sound–shift in children's educational entertainment.
Featuring original music scores, the movies average about 10 minutes inlength and are best suited for children between 1 and 5 years old. Caregivers and children follow DAisy through a series of adventures with titles sucj as Daisy Goes To The County Fair, Daisy Learns The ABCs and Daisy Goes to the Fire Station, Daisy Counts to 10 and Daisy Goes to the Zoo.
'My Daisy Days' is the result of in-depth consultation with experts in children's education at every stage of development. In addition, the DVDs have won endorsements from a number of early-childhood teachers and industry leaders.To ensure an educationally enriching experience,
Too often we dont let kids know that their ideas are worth being said and are worth being heard, said Gloria Needlman, an early-childhood expert and consultant to the production.
The series of short films employs a less is more story-telling sensibility
Absent from `My Daisy Days are the bright colors, constant activity, and syrupy voices that make many educational videos so overwhelming to young children and so irritating to adults, said Dr. Robert Needlman, an associate professor of pediatrics at Case Western Reserve University and co-author of Dr. Spocks Baby and Child Care.
One of Gloria Needlmans own children, he said he likes the stories for what they contain, and for what they leave out.
The stories are in outline only, leaving room for a child and adult to narrate, speculate, and create the details together, said Robert Needlman. This video is a developmentally appropriate tool that supports childrens literacy.
My Daisy Days traces its roots to a conversation between veteran film makers Mary Murphy and her brother, Don Carlson.
Members of a third-generation movie industry family from Chicago, the two had just wrapped up work on a commercial project when Carlson bemoaned the lack of live-action quality programming for his two children.
Their sister, DruAnn, also a filmmaker, had adopted a dog named Daisy from a shelter in the Chicago area. Daisy was a magnet for children at family gatherings and just about any place she traveled.
We should just film Daisy in her everyday life, Murphy suggested. The idea soon took shape, and filming was done during the summer and winter at a variety of Chicago-area locations.
It was just really wonderful to be able to take two cameraman and a dog and go shoot in beautiful Chicago, said Murphy.
Its so Norman Rockwellian, added Carlson. This is America, a normal life, and quite an enjoyable life, too.
The project received a significant boost when Jean Higgins, an award-winning producer, signed on as executive producer to the project.
Higgins has worked on dozens of major films and television shows, and is currently an executive producer of Lost, the top-rated television series currently in its sixth season. Together they formed My Daisy Days, Inc. to produce the Daisy series.
The film business can be rough, and I have been very lucky, Higgins said. The way I was raised, when youre lucky, and even when you are not, you need to give back. I wish I had My Daisy Days to watch with my pre-school son when he was growing up.
Each features original music scores created by Scott Higgins, Jeans brother.
The cinematography is beautifully shot by Carlson and his brother, fellow camera operator Rob Carlson. Much of the story is told, literally, from the dogs point of view.
But the productions may be most notable for what they do not include: dialogue.
It is designed to be minimalistic to allow for imagination and conversation, said Higgins. Its entertaining and educational, and a pleasant experience for adults as well.

javascript:void(0);

Like the best books for young children, they create a scaffold for the joint story-telling constructions of children and their parents, said Robert Needlman. These productions manifest a profound understanding of how children observe and understand the world.
The initial launch features three early learning DVD s, each of which contains three segments that chronicle Daisy the dogs adventures. Each DVD retails for $ 14.95. The 3-set series is priced at $ 39.95.
The shows in the Daisy lineup are:
Volume One: Daisy Goes To The County Fair, Daisy Learns The ABCs and Daisy Goes On A Boat Ride.
Volume Two: Daisy Goes to the Fire Station, Daisy Counts to 10 and Daisy Goes to the Park.
Volume Three: Daisy Goes to the Zoo, Daisy Watches Big Trucks and Daisys Winter Playdate.
All are aligned with the My Daisy Days mission: to nurture the joy of learning through educational live-action entertainment that fosters creative interaction between pre-school children and adults.
We are passionate about helping people recognize and appreciate the joy that goes hand in hand with learning, Higgins said. If you want to learn, youll never be left behind.
My Daisy Days, Inc. is donating 5 percent of every DVD sale to the Starlight Childrens Foundation.. My Daisy Days, Inc., recently donated 400 DVDs to Starlgiht's network of hospitals nationwide.
Starlight helps seriously ill children and their families cope with their pain, fear and isolation through entertainment, education and family activities.
My Daisy Days is available for purchase and your enjoyment at http://www.mydaisydays.com/
Contact Mary Murphy at 866-362-2833 for more information about 'My Daisy Days" the best in pre-school education entertainment
# # #