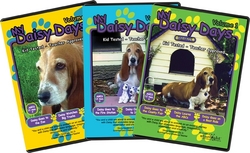 Chicago, IL (PRWEB) November 10, 2009
As the year-end holidays approach, a labor of love by a group of longtime filmmakers is helping to brighten the lives of families served by the Starlight Childrens Foundation. Over 400 of the hospitals Starlight works with will receive the My Daisy Days Early Childhood Learning DVD series to share with young children and toddlers.
My Daisy Days, follows the adventures of a live basset hound named Daisy. The nine episodes blaze a new trail in childrens educational entertainment. With no dialogue whatsoever, the series employs a less is more story-telling sensibility help toddlers and pres-school children with literacy and learning.
My Daisy Days, Inc. currently donates 5 percent of every DVD sale to the Starlight Children's Foundation as it helps seriously ill children and their families cope with their pain, fear and isolation through entertainment, education and family activities.
Jean Higgins, who is an executive producer of Lost" and the executive producer of My Daisy Days said supporting Starlight was an easy decision. She has known the founder, Peter Samuelson, for many years and the creative team, from the projects inception, unanimously endorsed supporting the organizations efforts.
Anyone who hears the story behind the making of My Daisy Days knows that its a project with heart, and focused on serving the needs of children and families, said Higgins. Its in perfect alignment with the Starlight Childrens Foundation.
Throughout the coming months Daisy will embark on a celebrity tour across the country. She will visit children in hospitals and other venues, promoting literacy, spreading her affection and signing paw-print autographs.
My Daisy Days mission: to nurture the joy of learning through educational live-action entertainment that fosters creative interaction between pre-school children and adults.
To ensure an educationally enriching experience, My Daisy Days, Inc. has consulted with experts in yound childrens education at every stage of development. In addition, the DVDs have won endorsements from a number of early-childhood teachers and industry leaders.
Gloria Needlman, an early-education expert and consultant to My Daisy Days, said the films create a literacy experience.
By viewing these delightful adventures together, adults and children engage in a literacy-enhancing process, said Needlman. With simple suggestions, such as telling a child to pretend he or she is Daisy, children can create and dictate their stories based on the beautiful real visuals.
Once written, these stories can be read over and over, creating a childs original library collection, Needlman continued. In this literacy enhancing process a young child uses speaking, writing, listening and readingfour components for literacy development.
The website for My Daisy Days features extensive activities, resources and recommendations that empower adults to expand those literacy elements.
The material encourages dramatization, dramatic play and pretend reading, all of which are vital in the development of comprehension and critical thinking, said Needlman.
Absent from `My Daisy Days are the bright colors, constant activity, and syrupy voices that make many educational videos so overwhelming to young children and so irritating to adults, said Dr. Robert Needlman, an associate professor of pediatrics at Case Western Reserve University and co-author of Dr. Spocks Baby and Child Care. .
The stories are in outline only, leaving room for a child and adult to narrate, speculate, and create the details together, said Robert Needlman. This video is a developmentally appropriate tool that supports childrens literacy.
With an eye toward a global audienceremember, there is no dialoguethe My Daisy Days team has expanded the website to include a Spanish-language pre-school learning DVD option.
For more information about "My Daisy Days" contact Mary Murphy at 866-363-2833
###