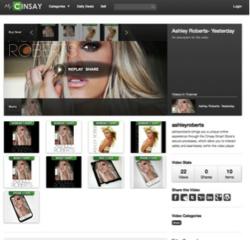 Austin, TX (PRWEB) January 10, 2013
Cinsay, a leader in social video eCommerce technology, announces the launch of their redesigned MyCinsay.com shopping portal. The eCommerce site displays merchant, charity and artists Smart Store videos. The new design visually enhances finding and selecting desired merchant stores. Were very excited about our new launch. Shoppers can now find and shop our merchants Smart Stores faster and easier. Products can be located in the video or on the storeowners page, said Founder and CEO, Christian Briggs.
Featuring products outside the video on each merchants landing page will increase search engine results (SEO) and provide a preview to potential shoppers. Other features include video stats (views, shares and items), social links both in, and outside the video, video categories and video key words. Viewers can also comment on merchants Smart Store page via Facebook and instantly share the store and comments to their own social page.
Cinsay is also adding more big brands along with small businesses to the MyCinsay page every day. A sample of big name retailers includes: Nordstrom, Quicken Loans, Travelocity, Gap, Samsung, Amazon, Bebe, Kenneth Cole, Betsey Johnson, Footlocker, Wal-Mart, Coca Cola, Showtime, Starbucks, GameStop and Warner Bros.
The partnership with RAG (Recording Artists Guild) is bringing new music artists to Cinsay each week. Well-known artists like Warren G as well as up and coming artists like Ashley Roberts are using their music videos to reach more fans while selling more products and branded merchandise.
For merchants, each Smart Store account includes a MyCinsay landing page, page link outs, products, social sharing, listing and promotion on the MyCinsay aggregated store page, along with detailed and robust eCommerce and viewer metrics from its patented CMS (Client Management System).
Weve been listening to the suggestions and feedback from both our merchants and shoppers and have incorporated those ideas into this update. More features and exciting options are on the roadmap this year as we continue to evolve our technology while adding more sellers and buyers, added Briggs.
More information on Cinsay including how to register for a Smart Store account can be found at Cinsays main website. http://www.Cinsay.com
About Cinsay, Inc.
Cinsay has created a next generation social eCommerce, viewer interactive, video-based platform for any individual or size businesses. Cinsays SaaS based technology enables everyone to sell products, services, capture donations, and generate leads all inside the patented Smart Store technology. Additional services available to individuals, SOHOs, enterprises and nonprofits, are Cinsays complete turnkey business solution via exclusive on demand, made to order merchandise featuring hundreds of personal, brandable products like t-shirts, caps, mugs and iPhone covers available at CinsayOnDemand.com. Now, anyone can be in business within minutes with no inventory whatsoever. Merchants benefit from Cinsays in-depth reporting tools and real-time statistical data. Cinsays embeddable platform is compatible with web and mobile devices and is highly scalable via its enterprise-level hosting and distribution networks. Full video production is available through CinsayProductions.com. Cinsay aggregates and promotes merchant stores via its searchable consumer portal, MyCinsay.com. Notable clients include: GameFly, Neiman Marcus, Wet Seal, decompras, and California Closets. Forbes has named Cinsay as one of Americas Most Promising Companies and by eTail Conferences as a Rising Star in innovation for 2012.