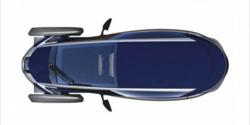 San Jose, CA (PRWEB) March 03, 2013
Toyota i-Road Concept Headed to Geneva
Toyota Motor Co. will unveil its super-secret i-Road concept car at the 2013 Geneva Motor Show. The electric three-wheeler looks like an insect in the overhead shot provided by Toyota. Besides that graphic, and a no-content short video of the car, virtually nothing is known about the i-Road. Because the car utilizes its 2-front-1-back wheel design to lean into turns, the tiny vehicle appears to be smartly arranged for fuel efficiency, stability and safety. For the complete story, see:

http://www.myperfectautomobile.com/toyota/toyota-iroad.html

———-

Sbarro Hybrid to Debut Next Week
Students from the Sbarro design school, Espera, will show a hybrid sports concept car at the Geneva Motor Show next week. Called the React E.V., the moniker does not denote electric propulsion but stands for Ecologic Vehicle. Unlike some of the teams previous projects, the React E.V. is a working model, and is slated to appear in various rallies throughout the racing season. For the complete story, see:

http://www.myperfectautomobile.com/featured/sbarro-hybrid.html

———-

Nissan Motorsports to Race EV in Le Mans 24 Hr.
Nissan Motor Companys President and CEO, Carlos Ghosn, announced this week that the Japanese automaker would enter an electric race car in the 2014 running of the 24 Hours of Le Mans event. Ghosn pointed out that the Nissan entry will, act as a high-speed test bed in the harshest of environments for both our road car and race car electric vehicle technology. For the complete story, see:

http://www.myperfectautomobile.com/featured/nissan-ev.html

———-

About MyPerfectAutomobile:

MyPerfectAutomobile (MPA), a California-based news source for the hybrid, electric, and alternative-fuel transportation sector, covers breaking news on the green car front. The MPA flagship website has grown into a major presence on the Internet. It features a complete shopping mall as well as a free-to-list classifieds section for all things green. For advertisers, MPA offers the chance to be in front of over 20,000 readers each month who are interested in hybrids and electric vehicles, as well as sustainable transportation in general.

Bob Twaalfhoven: President and Founder of MPA, is an MIT-educated engineer whose primary interest is planetary sustainability.

Larry Judkin, General Manger and Sales Coordinator, has tasked himself with taking MPA to the number-one spot among green transportation websites.

Contact MPA:

Box 18846

San Jose, Calif. 95158

For advertising opportunities, contact MPA directly: Phone: 866-520-5558 Email: driven(at)myperfectautomobile(dot)com Web: http://www.myperfectautomobile.com