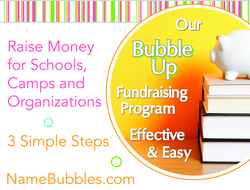 Saratoga Springs, NY (Vocus) April 14, 2010
Mommy bloggers, schools, camps, and community organizations worldwide can now become part of the new "Bubble Up" fundraising program from Name Bubbles. Fundraising program members earn a 15 percent commission on sales of Name Bubbles labels to their customers, students, readers or other constituencies. The Bubble Up online rewards system automatically tracks referrals from program partner Web sites and e-mails, then it pays partners the commission on purchases made by people they have referred to Name Bubbles.
Weve designed our Bubble Up program to be easy to use, transparent, and as seamless for our fundraising partners as possible, said Michelle Brandriss, CEO and founder of Name Bubbles. We not only supply and ship the labels and track referral commissions on a unique program page for each partner, but we also provide our Bubble Up Web banner ads and other online marketing materials, so all they really need to do is sign up and start earning their commissions from referred sales.
The Name Bubbles Bubble Up fundraising program provides all the marketing materials program partners need to promote Name Bubbles on their own Web sites, blogs, Facebook pages, online newsletters, and e-mail lists. Attractive Web banner ads, text links, and promotional e-mails are all ready to download, so organizations can start promoting their Bubble Up programs immediately.
How the Bubble Up Fundraising Program Works
Like the Name Bubbles Web site itself, the Bubble Up fundraising program is easy to use. Here's how it works:
1. A visitor clicks on an advertising link or banner on a Bubble Up partners Web site, promotional email, Facebook page, etc.

2. The visitor's IP address is automatically logged by Name Bubbles and a browser cookie is placed in his or her browser for tracking purposes.

3. If the visitor orders (the order need not be placed during the same shopping session–cookies and IPs are stored for 90 days), the order will be immediately registered as a sale for the partners organization.

4. If the visitor has turned off their cookies on their Web browser settings, then the Bubble Up system will check for the partners Web site IP address.

5. Name Bubbles reviews and approves the sale.

6. The Bubble Up partner receives commission payouts via PayPal on the 15th day of every month, after the minimum balance reaches $ 100.
Fundraising partners are also given their very own program page, so they can view detailed statistics about traffic and sales; plus, partners can choose their own news and training materials, Web banner ads, and text links.
Award-winning Name Bubbles labels
Name Bubbles personally identify baby bottles, school uniforms, sports equipment, clothing, and other property that can sometimes go missing between home, school, camp, vacation, or wherever family members happen to travel. Designed to be both functional and fun, Name Bubbles received the prestigious iParenting Media Award for Outstanding Products in 2009.
Name Bubbles labels are made of vinyl with a durable adhesive, so they're safe in the dishwasher, microwave, and laundry, Brandriss said. Name Bubbles press-and-stick labels keep it all coming home, before anything even reaches the lost-and-found box.
About Name Bubbles

Name Bubbles are fun and functional waterproof press-and-stick name labels designed to help busy families keep track of toys, clothing, hand-held electronics, baby bottles, school uniforms, sports equipment, and much more. Name Bubbles waterproof labels are safe for the dishwasher, laundry, and microwave. Custom label packs are available for camp labels, school labels, and daycare labels. They can all be personalized and purchased right on the Name Bubbles Web site at http://www.NameBubbles.com.
###