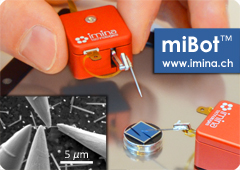 Phoenix, AZ (PRWEB) August 14, 2012
Nanoscience Instruments, Inc. announces distribution of the Imina Technologies miBot nanomanipulator in the USA and Canada. The miBot is the worlds smallest commercial manipulator and is revolutionizing the handling and sensing of diverse samples at the micro and nano scale. The miBot has already proven its unique capabilities for performing intricate tasks in a variety of applications in electronics, life science, materials science, photonics and more.
"The miBot manipulator is an exciting addition to our portfolio of nano and microscale metrology products," says Mark Flowers, Nanoscience Instruments' co-founder. "Being able to see at the nanoscale is important, but adding the ability to manipulate and sense at this scale opens up new dimensions and possibilities." Imina Technologies miBot is more than a conventional nanomanipulator. Virtually untethered, it is free to move independently, enabling interaction with micro- and nano-sized samples in a way which has never been achieved before. With four degrees of freedom, this mobile micro-robot provides nanometer-precision displacements and large travel ranges of several centimeters. Since the motion directions of the miBot are aligned with its natural axes, even complex manipulations are intuitive to perform. And, as it does not require mounting screws, total set-up time is a matter of a few minutes.
"We are thrilled to be working with Nanoscience Instruments," says Imina Technologies CEO Beno