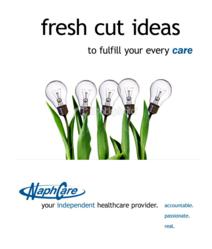 Birmingham, AL (PRWEB) December 22, 2012
The award was approved by the Orange County Board of Supervisors at the December 18th meeting. Orange County HCA and NaphCare signed the new agreement December 21, 2012. The TechCare system will offer Orange Countys HCA and its medical professionals a customized clinical information tool to track, organize, share and create immediate benefits to serve the approximately 6,000 inmates and juveniles entrusted to Orange Countys custody.
Jason Douglas, NaphCares Vice President of information systems says the TechCare system is a solution that Orange County can utilize for many years to come. NaphCares combination of clinical experience and information technology design team has created a system we can customize for Orange Countys needs, he said. It is a tremendous tool for HCAs medical and mental health professionals to provide more efficient medical, mental health, medication management and reporting ability for their patients.
The TechCare Clinical Operations System contains a complete electronic health record (EHR) and electronic medication administration record (eMAR) built into the software system, offering Orange Countys HCA division a tremendous benefit for clinical staff, patient care and data collection.
TechCare will allow Orange County HCA staff to self-audit services on a daily basis, creating a transparent operation for auditing purposes from outside monitoring agencies. The system will create a link with the current jail management system and will share information between the pharmacy, lab and radiology services, hospitals and other specialty providers.
Orange Countys HCA provides medical, dental, nursing, infections control, health education and pharmaceutical services at a community standard of care to adult and juvenile inmates in the County's five correctional facilities and contracts with hospitals for inpatient and specialty care.
HCA also provides mental health services including 24-hour emergency triage and crisis intervention, suicide prevention, treatment beds, individual and group therapy, and substance abuse counseling, medication assessment and discharge planning to adult and juvenile inmates in the County's five correctional facilities.
We are excited to begin our newest EHR partnership with Orange County and in the State of California, said NaphCare CEO James S. McLane. This is an opportunity for NaphCare to utilize our experience, our system and our philosophy of providing the highest quality inmate healthcare to serve the county well in its cost saving goals. We believe in nurturing trust while implementing strategies for providing high-quality care, said McLane.
Utilizing the TechCare system, Orange County staff will have direct access to data across the entire Orange County jail operations. Patient history, medication information and key patient data will be accessible at the touch of a button, creating care and cost efficiencies throughout the Orange County system.
NaphCare is an independent provider of correctional health care services and technology solutions and currently serves 50 clients in 25 states. The TechCare system is a correctional healthcare operating system, developed, supported and owned by NaphCare, Inc.