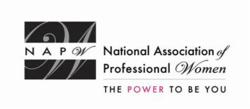 Garden City, NY (PRWEB) May 01, 2013
Members and guests of the NAPW Bethlehem, PA Local Chapter gathered on April 11th for a professional networking meeting at East Stroudsburg Universitys new Bethlehem-based facility.
The Chapters second monthly meeting was in the format of a speed networking event. As they networked, the group of professional women had the opportunity to learn more about one another, and make connections both personally and professionally.
Attendees delved deeply while engaging in time-bound one-on-one exchanges, said Cordie Lacy, Bethlehem Local Chapter President.
Members and guests were astonished with the results; it was reportedly the most effective networking session that some have ever attended!
Below are highlights of who was in attendance and the information exchanged between members and guests:
Sandra Del Cueto, she teaches both English and Spanish to her students at Northampton Community College. Her focus in a professional setting is to involve her students in the community by promoting active service and translation of English and Spanish in the Lehigh Valley. Born in Cuba, but raised in Manhattan, Sandra has traveled all over the East coast, and one day dreams of returning to California where she once lived. Sandra joined the organization primarily for its vast networking opportunities and meeting new people. She hopes to share in her experiences teaching and in her life interests, which include reading and writing. Sandra is also married with a 14-year-old daughter.
Michele Dolgos is the National Marketing and Sales Manager at A. Sheftel & Sons, a local textile manufacturer. Her specialties are in social media marketing, product launches, public relations, career placements/resume services, and sales training. Michele also is the head coach and BOD member of the Lehigh Valley Rollergirls, a nationally ranked nonprofit organization dedicated to providing an opportunity for women athletes to achieve their maximum potential, both athletically and intellectually, through the sport of roller derby. Michele is also an avid theatre and experience adventurist. Michele has joined to branch out her own personal network and to increase her involvement in the community in promoting professionalism in women.
Jacqueline Nonnemacher is a Financial Advisor and Franchise Owner of Ameriprise Financial. With 14 years of experience in financial services, Jackies professional mantra is to help individuals plan for the future and to help them avoid their own personal fiscal cliff. The services she provides include plans to prepare for retirement, college planning, risk management, and long-term care planning. She offers free consultation and can help answer questions regarding financial services and accounting. Besides wanting to introduce members to her services, Jackie has joined the organization to meet new people and to explore more networking options. In her spare time, Jackie enjoys working out by going on walks and mountain biking. She also enjoys gardening and cant wait to spend the nice weather with her new German Wire Hair dog named Gretchen.
Jill Whiskeyman is the Owner and Accounts Director at Simpatico Interactive, a digital branding company located online at simpaticointeractive.com. The company specializes in branding and initiating an online presence for their customers, typically in a B2C e-commerce environment. They offer web design and development and focus on a mobile friendly user experience. Their niche includes start-up companies, but they offer many more services including expansion into social media, email marketing, copyrighting, SEO/optimization, and strategic planning. Jill also is on the development committee for the Lehigh Valley Childrens Center, where her expertise helps promote education media. Jill is furthering her own education and will be graduating from school very soon with a Master degree in Integrated Marketing. Jill describes herself as an avid reader and writer and claims to be a foodie who likes to try out new and exciting restaurants in and around the Lehigh Valley.
Diane Gagliardo is a Franchise Owner of Cruise Planners out of Flemington, NJ. Cruise Planners, in connection with American Express Travel, offers destination experiences that are custom tailored to the needs of the customer. Diane has also recently introduced a travel match up/ meet up where individuals can come together, learn about other peoples travel needs and desires, and be matched up for future travel partners. Dianes services go beyond travel, she builds a relationship with each of her clients and then custom tailors each vacation based on the individual, not on just a destination. Diane has joined to branch out and expand her business, but she is also looking to build relationships with other women who can share their experiences and professional wisdom. Besides being a Dream Vacation Agent, Diane has described herself as an 80s music and I Love Lucy super fan. She collects much of the Lucy memorabilia, and has even travelled to many destinations to celebrate such events as Lucille Balls 100th Birthday celebration in Jamestown, NY. Diane also proudly states that her mantra is follow your passion.
Others in attendance were members Diane Diaz, Cordie Lacey (Bethlehem Chapter President and Co-Owner of LaceFront Entertainment, LLC.), Portia Watkins, and guests Ruth Barnett and Brenna Garcia.
Upcoming Bethlehem Chapter meeting dates are May 16th and June 13th.
See the Bethlehem Chapter Page for details surrounding next months event. For more on the Bethlehem Chapters active members, Like us on Facebook or follow us on Twitter as we highlight Featured Members each week.
The National Association of Professional Women (NAPW) is the largest and most recognized network of female professionals. NAPW provides a forum where women can interact, exchange ideas, educate, network, and empower. NAPW Local Chapters allow members to maximize their experience through meetings, networking opportunities, and professional events.
For additional information regarding the NAPW Bethlehem, PA Local Chapter and/or NAPW, please visit http://www.napw.com.
Follow NAPW on Facebook and Twitter.
###