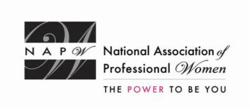 Garden City, NY (PRWEB) November 09, 2012
Nearly 20 members and guests of the NAPW Orange County, CA Local Chapter gathered on October 24th for a professional networking meeting at Intercap Lending in Irvine, CA. Attendees had the opportunity to network, get to know one another, and meet many of the newest Orange County, CA Local Chapter members. Attendees also picked up some expert tips on how to retire in style from Cindy Logan, Coach, Speaker, and Author with LOGAN Economic Achievement.
Chapter President Petra Petry welcomed the group of professional women to the meeting, which was held at Intercap Lending, the perfect venue to meet all the new members of the Chapter and connect with the women who are attending the Chapter meetings every month.
We want to especially thank Cindy Logan, our Educational Speaker, and also Derek Beisner from Intercap Lending, which has provided us with an excellent space for our meeting and networking, said Petra.
Derek took a few moments to talk to the group about his company and how in addition to the traditional financing, Intercap Lending also provides free mortgage consultation, teaches people how to become debt-free, helps with childrens college tuition planning, and with 15 years of experience as a certified mortgage planner, helps you achieve your financial goals.
The guest speaker then took the floor and spoke to the audience about an important topic on everyones mind: retirement.
Cindys educational speech on what we can do to secure our retirement with generating our passive income was eye opening for many of us, said Petra.
Members and guests then each had the opportunity to introduce themselves. After introductions, everyone was able to connect and network. The meeting ended with a door prize drawing. The lucky winner of a photo shoot by Elena Bessi, the Italian photographer in Orange County, was Nichole Morante. Nichole will have the possibility to schedule a holiday, family, or business photo shoot with the photographer who helps families preserve and remember all the great moments they live through. To contact Elena Bessi, please visit her website elenabessi.com.
The next Orange County Local Chapter meeting will be held Wednesday, November 28th at 12:00pm. Please contact Petra Petry if interested in attending and/or hosting a meeting in your office.
Attendees at the National Association of Professional Women Orange County Local Chapter meeting in October was:
Linda Lewis Specialist in Reverse Mortgages, with Proficio Mortgage. She is able to help seniors enrich their lives, giving them financial help and freedom. Linda is also affiliated with helping at the nonprofit second Harvest Food Bank, helping others and seniors with medications, or to pay the bills. Call Linda Lewis for a free consultation and see if they will be able to qualify for senior help. Linda(at)ReverseWithLinda(dot)com 800-456-7542; 949-278-4392; ReverseWithLinda.com.
Mercedes Rees Vice President of Clear Image Investigators, Inc., a business that helps one verify who they are hiring or when they need to look for more information. She can assist with locating people, witness civil cases and interviews, and assess businesses. Call and find out if they can prevent problems. 949-335-1716; clearimageinvestigations(dot)com.
Donna Magner CEO at a1Tonertech.com. In- house printing is main product Xerox, incorporated since 2007. Offers all printing office needs printers, copiers, fax, and multifunction, warranty renewals, service/repairs, and supplies on all major brands. Call toll free 866-507-8324 or e-mail donna(at)a1tonnertech(dot)com; a1tonertech.com. A charity board member for giving scholarships to disadvantaged youth and siblings, Donna will be taking part in the May fundraiser; she is also participating in Golden 10,000 small businesses to go to small business school.
Petra Petry, Ph.D. President of NAPW Orange County Local Chapter and Long-Term-Care Specialist, licensed in CA, IL, and FL of LTC Financial Partners, which specializes in LTC insurance Nationwide. Long-term-care insurance is not just for elderly. Contact: 949-351-0347 or visit petrapetry.ltcfp.com.
Mary Westphal – OnQFinancial Mortgages Simplified. Mary can help many of us with some great information and education about the industry. She is Senior Mortgage Consultant and her direct contact is 949-566-8580 or visit onqfinancial.com. Offices are in Newport Beach near Fashion Island.
Nichole Morante – Orange County Spine Professionals. Nichole can help anyone with chronic back pain without surgery; treats the symptoms, free digital x-rays and free consultation – visit with one of the doctors. Schedule visit today 714-362-5509; ocspinepro.com.
Veronika Winski NeriumAD- Independent Brand Partner. Real scientific breakthrough skincare, real results – product with 100% guarantee. The Nerium International is a REAL company where one can build their dream life. Healing skin the natural way, Oleander Plant derivative with special anti-aging properties. Contact Veronika directly at 562-308-0695 or visit PureSkin.Nerium.com.
Irma Castaneda Individual and business banking for over 30 years in Orange County, looking forward to helping any client that is unhappy with their current account. She is Vice President Relationship Manager at Pacific Enterprise Bank, Member FDIC, 17748 Sky Park Circle, Suite 100, Irvine, CA 92614. D (949) 623-7561; C 949-529-4488; F (949) 623-7598; mailto:icastaneda(at)pacificenterprise(dot)com.
Dr. Maha Yousif "Your smile is your best asset" invisible braces, lingual braces, Invisalign, Clear Inspire ICE Braces. Dr. Maha Yousif extended an invitation for a complimentary orthodontic consultation. Patients will be in the good hands of an experienced professional. She has been practicing orthodontics for over 20 years and is a former Clinical Instructor at the USC School of Dentistry, Department of Orthodontics. 29809 Santa Margarita pkwy, suite 200, Rancho Santa Margarita, CA 92688; canyonorthodontics.com. Call direct to schedule a visit today 949-216-9800.
Tammy Mills-Operation Manager from Affiliated Computer Services, Inc. With XEROX company outsourcing staff data server Info Structure County and data management. It was her first visit to the Orange County, CA Local Chapter and we hope to see her again. She can be contacted directly at at tammy(dot)mills(at)ceoit.ocgov(dot)com or 714-834-6821.
Cindy Logan-Coach, Speaker, and Author with LOGAN Economic Achievement Programs. Offers help to retired people with small security with real estate investment. Contact her directly at 949-433-7187 or e-mail investorcindy(at)gmail.com; LeaptoWealth.com.
Betty Drader- REIC/Strongbrook Direct – Independent Business Developer and with Real Estate Matchmaker From Orange County Los Angeles to Honolulu get your six figure income on a regular basis One can get their Game Plan Today Creating Residual Income Through Real Estate with your Realtor in this area. Betty can be contacted directly at 949-290-4577; WealthIsAsystem.com Betty(at)WealthIsAsystem(dot)com.
Michelle Wolfe- NYLife insurance agent the company to keep. Michelle is available for a free consultation in her office to educate clients on tax deferred investments, lifetime retirement income. Rollover 16% interest, stable, and steady. For more information (available in Spanish) call 562-391-8343 or e-mail: mwolfe(at)ft.newyorklife(dot)com.
Natalia Delaney – Visalus Sciences. Just moved from Arizona; she used to be in property management but she needed to change her lifestyle due to dangerous diagnosis. Today, she is cancer-free. Health Boost of energy/share three girls and their product is free shake, cookies, and children can have it. Meal replacement might be a great option on the go and can help someone with their waistline with no time to ge