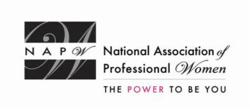 Garden City, NY (PRWEB) March 19, 2013
Members and guests of the NAPW Wichita, KS Local Chapter gathered on February 11th for a professional networking meeting at the Green Mill Restaurant at Kellogg & Rock Road in Wichita.
The group of professional women heard useful information about conducting background checks on potential employees from guest speaker Jamie Brown of the National Screening Bureau.
Attendees also discussed ways women can be effective leaders in the workplace.
NAPW Wichita Local Chapter President Dawn Reed kicked off the meeting by welcoming all members and guests.
She invited the group of professional women to introduce themselves and mention one objective they have for 2013. She then introduced the evenings guest speaker.
Jamie Brown from the National Screening Bureau reviewed her dissertation topic Roadmap to a Successful Hire, said the Chapter President. This roadmap outlines all the different pre-employment checks and searches that the bureau recommends.
Among its many duties, the National Screening Bureau is responsible for electronic I-9 System; drug testing for companies; background checks; social medial checks; identity verification; criminal searches; e-verify; and annual recertification.
This was a very enlightening presentation as many of the attendees did not realize some of the criminal actions going on in todays workforce and how to prevent them, said Dawn. Now we know where to go for assistance. It was very educational!
The Chapter President then led a discussion about finding your authentic leadership style. The topic was based on an article by Kelly Azevedo: Whats The Secret for Women to Lead Effectively on the Job?
The author offered the following three steps:

1)