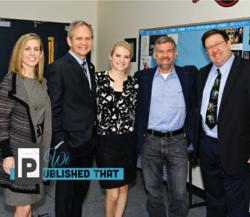 Atlanta, GA (PRWEB) November 14, 2012
Gary Martin Hays, Atlanta personal injury attorney and nationally recognized safety advocate, Adam Weart, social media specialist, and Mary Ellen Fulkus, Executive Director of Keep Georgia Safe, recently joined forces to co-write a book titled, The Authority On Child Safety: How To Talk To Your Kids About Their Personal Safety Without Scaring The Daylights Out Of Them. The book will be released by We Published That, L.L.C. – a publisher focused on helping authors brand themselves as The Authority On their areas of expertise.
The Authority On Child Safety will be published in December of 2012 and features in depth insight on how to deal with a wide range of safety scenarios. Topics covered include Bullying, Abduction Prevention as well as Internet Safety. All proceeds from the sale of the book will go directly to fund Lets Protect Our Kids, a project of Keep Georgia Safe. The mission of Keep Georgia Safe, a 501(c)(3) charitable organization, is to provide safety education and crime prevention training.
Keep Georgia Safe has a two-pronged approach to safety training and crime prevention:

1.) Proactive: Education Keep Georgia Safe provides safety education and crime prevention training through: