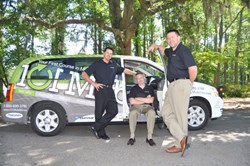 Kansas City, MO (PRWEB) October 03, 2013
101 Mobility has introduced geo-specific online advertising combined with SEO-rich organic content to reach potential Kansas City franchise candidates. 101 Mobility executives hope that todays remarkable aging and disability statistics will grab the interest of people who have previously owned a business or managed a team and are now living in or near Kansas City.
With 90% of seniors now preferring to age in place and a 117% increase in Johnson Countys senior population over the next twenty years, 101 Mobility President Dave Pazgan believes those numbers are likely to have some pull (iyhusa.com) (kansascity.com). Our goal is to make the 101 Mobility brand more visible in the Kansas City area, he said. We are looking for sharp franchisees who can build strong franchise businesses.
101 Mobilitys franchisees are provided with corporate training, a proprietary business management platform, an aggressive online marketing strategy, and the freedom to oversee their own businessfrom lead tracking to order fulfillment.
Interested contenders can learn more about this limited opportunity in Kansas City by following this link to request more information.
*Those who request information will not be contacted for solicitations.
About 101 Mobility

101 Mobility is the franchisor of full-service sales, maintenance, and installation businesses offering a complete line of mobility and accessibility equipment. Products include stair lifts, auto lifts, ramps, porch lifts, patient lifts, power wheelchairs, scooters, and more. 101 Mobility's franchisees are provided with geo-specific online marketing campaigns, an in-person initial training program, and a proprietary business management platform.