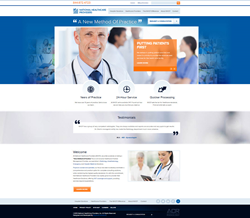 Lutz, Florida (PRWEB) May 27, 2015
National Healthcare Providers (NHCP), along with its digital partner, award winning web development and interactive marketing agency, Bayshore Solutions, is proud to announce the launch of its newly redesigned, custom website, found at http://www.nationalhealthcareproviders.com.
National Healthcare Providers, is a physician owned and operated medical consulting firm, specializing in the areas of Radiology, Anesthesiology, Emergency and Hospital Medicine. NHCPs comprehensive solutions allow healthcare facilities to improve efficiencies, while providing the highest patient care and satisfaction, leading the industry as a New Method of Practice. It is in this nature that NHCP worked alongside Bayshore Solutions, to deliver a new website that is not only a signature of their practice, but comprehensive and user friendly for medical professionals.
National Healthcare Providers transitioned to a new phase of business in 2014, expanding its services lines, after formerly leading in Radiology services as National Radiology Consultants. NHCP challenged Bayshore Solutions to help them redesign their new website to not only promote their new brand and expanded services, but also to help them lead the industry as a company that values advance technology, evaluation and management among healthcare providers. The new website allows users to navigate through both hospital solutions for healthcare facilities, but is also available as a recruiting tool for potential healthcare providers, looking to join NHCPs expanding model.
The launch of the new website, is part of our organizations ongoing efforts to enhance the quality and availability of information to both hospital administrators and potential employees, said CEO and Founder, Dr. James Okoh. Providing quick and easy access to essential information for individuals and organizations that may benefit from NHCP services, has been among our highest priorities as we streamline our resources to better serve our partners.
In addition to the new website, National Healthcare Providers plans to continue its partnership with Bayshore Solutions, as a digital marketing service provider. Bayshore will work in conjunction with National Healthcare Providers to promote the new website to medical professionals and manage search engine optimization efforts.
We are incredibly proud of our partnership with National Healthcare Providers, said Kevin Hourigan, President and CEO of Bayshore Solutions. Our team is especially excited about the firms growth and we look forward to continued collaboration to grow the NHCP brand and business opportunities.
About National Healthcare Providers

National Healthcare Providers, is a full healthcare consulting firm with Radiology, Anesthesiology, Emergency and Hospital Medicine Solutions. NHCPs focus has been to develop and foster a comprehensive and practical option for complete consulting solutions, while maintaining the highest quality standards. It is with this commitment, that National Healthcare Providers has rapidly grown to provide total healthcare solutions, offering 24/7 coverage and support, providing services beyond expectations.
National Healthcare Providers has a business history that was developed and grown from a high commitment to quality. Founded as National Radiology Consultants, NHCP was created and is currently operated by Dr. James Okoh, MD. As an Interventional Radiologist and Neuroradiologist, Dr. Okoh identified a gap in radiology services, with the attention to detail and quality needed within the industry. It was with those concerns that he founded National Radiology Consultants. After a successful response from medical facilities looking for comprehensive and effective consulting solutions, Dr. Okoh and his team recognized the need for that same quality among numerous medical lines. With a high level of dedication to creating quality healthcare consulting and solutions, Dr. Okoh and his team expanded the business to what it is today, National Healthcare Providers, providing hospitals and patients with the care they deserve. For more information on National Healthcare Providers and the services they are offer, visit their new website at http://www.nationalhealthcareproviders.com.
About Bayshore Solutions

Digital design and marketing agency, Bayshore Solutions offers award-winning capabilities in custom web design, digital marketing, e-commerce, search engine optimization and internet application development. Founded in 1996, the website design company has delivered custom web applications to over 1,900 clients in 54 countries. Bayshore Solutions integrates technology and web marketing services to ensure measurable results for clients. For more information about website design and Internet marketing services visit http://www.BayshoreSolutions.com.