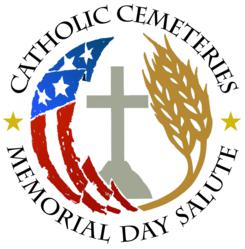 (PRWEB) May 14, 2013
As the country prepares to celebrate Memorial Day, thousands of Catholic Cemeteries across the United States will participate in a national celebration, "Serving God and Country: A Memorial Day Salute to Our Heroes." This national program, developed by the Catholic Cemetery Conference, will honor those men and women who died while serving in the armed forces, as well as recognize both active military and military veterans who have served our country.
Serving God and Country: A Memorial Day Salute to Our Heroes, invites active military and veterans to participate in Memorial Day Mass at cemeteries across the United States, as well as to join in a host of other cemetery-related activities throughout the weekend.
More than 2,000 cemeteries across the country will participate in this program and have planned activities including Wreath Laying Ceremonies, Tribute Boards and Military Choirs. The Catholic War Veterans of America and the Knights of Columbus are also expected to participate in the national celebration. Veterans and active military are invited to serve as flag or candle bearers during the opening and closing processions at Mass, and will also be invited to serve as Lectors, participate in the Presentation of Gifts, and recite uniform intercessions followed by a moment of silence.
The Most Rev. Timothy P. Broglio, JCD, Archbishop for the Archdiocese of the Military Services, USA, will serve as National Spokesperson for the Serving God and Country: A Memorial Day Salute to Our Heroes, program and will celebrate a Memorial Day Mass at the Basilica of the National Shrine of the Immaculate Conception in Washington D.C. on May 19th, 2013.
It is important to remember the sacrifices of those who have died, those who have served, and those who currently serve our country in the armed forces, said Archbishop Broglio. I am both proud and honored to be part of a national program that acknowledges the commitment each soldier has made to our Country as part of a long, inspiring history of self-giving, service, and the risk of the ultimate sacrifice.
###
The Catholic Cemetery Conference (CCC) is an association established in 1949 consisting of Catholic Cemeteries from Archdioceses and Dioceses located primarily the U.S. and Canada, but also with members in Australia, Guam and Puerto Rico. The Catholic Cemetery Conference is a faith network committed to cemetery advocacy and education. The association provides a central office for facilitating communication, planning educational venues, and disseminating information to promote high standards of cemetery management and operation to its 1100 cemetery and supplier members, thereby fostering the religious, charitable and educational interests of Catholic cemeteries and the people they serve.
For more information, contact:

Gibbs & Soell Public Relations

Katie Timinsky; ktiminsky(at)gibbs-soell(dot)com 212-697-2600 ext. 1282

Caroline Gennaro; cgennaro(at)gibbs-soell(dot)com 212-697-2600 ext. 1210