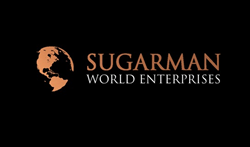 New York, New York (PRWEB) March 30, 2015
David Sugarman, CEO of Sugarman World Enterprises signs free agent Chris Smith, the 63 point guard.
Smith began his career with the New York Knicks before moving to the D-League Knicks affiliate, the Erie Bayhawks. After a season with the team, Smith is looking for the best opportunity for him to play professional basketball.
Smith, younger brother of NBA star J.R. Smith, began his professional career with a promising start after solidifying his place on the court as part of the Louisville Cardinals Mens Basketball team. Smith scored in the double-digits in 16 games as a junior. As a starter and team leader, Smith carried the Cardinals to win the Big East Championship twice, receiving numerous Big East accolades along the way. He was key in many of the Cardinals big games, including leading his team to the Final Four his senior year.
I just thought the timing was right and Sugarman came to me at the perfect time, said Smith. When someone wants to see you succeed as much as you want to achieve success and is willing to help you reach these goals, that means a lot.
Smith and Sugarman have started to outline the plan for Smiths return to professional basketball and the NBA. Currently Smith is training in Houston with Coach John Lucas. With the success that Sugarman has established with players in the D-League and in the International Leagues, Smith is confident about his future.
Chris Smith is a great fit for Sugarman World Enterprises. We have proven success in placing players with teams that get them recognition, said Sugarman. Its an added bonus that I really do understand Smith, where he is from and what he wants to accomplish.
Smith and Sugarman are both natives of Monmouth County, New Jersey, Smith a native of Millstone and Sugarman from Marlboro.
This announcement comes on the heels of Sugarmans recent interviews on the news following the release of Kenneth Bae, who was held in North Korea for more than two years, and whom Sugarman created the #BringBaeBack campaign.
In addition to his community engagement efforts, within the past year, Sugarman made headlines bidding to purchase The Plaza Hotel in New York. Sugarman World Enterprises has allowed Sugarman to meet with political figures and civic leaders as well as assisting organizations to reach their growth potential.
Sugarman World Enterprises is the parent company to SugarTime, Inc. The Agency and offers consulting services in the fields of: brand management, lobbying, marketing, public relations, social media, sponsorship/ endorsement and business development. Sugarman World Enterprises was created following the expansion of David Sugarmans businesses to New York in 2013.
-IAMDAVIDSUGARMAN.COM