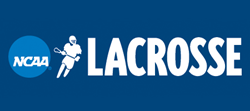 Baltimore, Maryland (PRWEB) May 05, 2014
Tournament brackets were announced Sunday night for the NCAA Mens Lacrosse Championships. The new champions will be crowned on May 25th and 26th on Shaw Sports Turf at M&T Bank Stadium in Baltimore, the home field of the NFLs Baltimore Ravens.
At the Division I level, ten different conferences received automatic berths in the tournament and the lowest four teams with automatic qualifications were placed in a play-in bracket.
The top eight seeded teams for the tournament are Duke, Syracuse, Loyola Maryland, Pennsylvania, Denver, Notre Dame, Maryland, and Virginia. Their respective opponents for the first round are Air Force or Richmond (play-in), Bryant or Sienna (play-in), Albany, Drexel, North Carolina, Harvard, Cornell, and Johns Hopkins.
All first round games will be played on May 10-11 and will be televised on ESPN2 or ESPNU. The quarterfinals will be on May 17-18 and will also be televised on ESPN2 and ESPNU. The semi-finals and championship game will move to Shaw Sports Turf on May 25-26. The semi-finals will be broadcast on ESPN2 and the finals will be broadcast on ESPN.
At the Division II level, the eight-team field will consist of Adelphi, Dowling, LeMoyne, LIU Post, Limestone, Queens, Tampa, and Mercyhurst. The finals will be at M&T Bank Stadium on May 25th and will be streamed live on the web at http://www.ncaa.com.
The Division III field includes 30 teams. Rochester and Salisbury are the two top-ranked teams in the tournament. The two finalists will advance to M&T Bank Stadium where they will play for the championship on Shaw Sports Turf on May 25th. This game will also be streamed live at http://www.ncaa.com.
Were honored and very proud that the top teams in collegiate mens lacrosse will compete on Shaw Sports Turf, said Chuck McClurg, Vice President of Shaw Sports Turf. Our relationship with the Baltimore Ravens has been strong for over a decade and the field at M&T Bank Stadium is second-to-none. This is a great venue, a great playing surface, and a great event.
The surface is M&T Bank Stadium is Shaw Sports Turfs Momentum 51 system. Fast, dense and firm, Shaws Momentum system is designed for high performance with a proven slit film technology. In addition to its durability and performance benefits, Momentums fiber construction results in an umbrella effect that helps hold infill and reduce overall fly out. The fiber system forms individual blades, giving it the look of a monofilament system. It has a low g-max, meaning it is safe, yet firm. The high fiber density makes it a lush, long-lasting surface and Ultra-Loc backing technology gives the field dimensional stability and improved tuft-bind for hold the fibers in place.
For more information on the championships and for interactive or printable brackets, visit http://www.ncaa.com/sports/lacrosse-men.
About Shaw Sports Turf

A wholly-owned subsidiary of Berkshire Hathaway Inc., Shaw Industries is a full flooring provider to the residential and commercial markets. Shaw supplies carpet, hardwood, laminate, resilient, and tile/ stone flooring products, as well as synthetic turf. Shaw Sports Turf is one of the leading synthetic turf companies in North America and has represented quality and innovation for more than two decades with over 1,500 successful installations, including an impressive list of high-profile field installations. For more information please visit http://www.shawsportsturf.com, call 866-703-4004 or find us on Facebook.