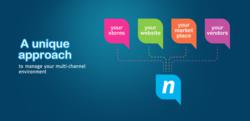 Columbus, OH (PRWEB) May 02, 2013
nChannel, creator of the cloud-based multi-channel management platform, announced today the closing of a $ 2.4 million Series A funding round led by the Ohio TechAngels Funds. The funding will enable the company to launch new product offerings, increase internal resources, expand customer support, and fuel revenue growth through direct sales and nChannels growing partner network.
Through a series of SaaS connectors that integrate eCommerce, point of sale (POS) and enterprise resource planning (ERP) solutions, the nChannel multi-channel management platform enables retailers to improve visibility and streamline operations across a multi-channel environment. In the last 12 months, nChannel processed over 833,000 subscriber order transactions worth over $ 365 million, and nChannel subscribers syndicated more than 800,000 items from 22,477 suppliers. In the same period, nChannel has released 17 platform connectors, including those for eBay and Microsoft Dynamics, established 28 reselling partners and added 25 new employees.
Participants in nChannels funding round include TechColumbus, the Ohio TechAngels Fund III, North Coast Angel Fund II, Grouse Ridge Capital, Queen City Angels, the TechColumbus Co-Investment Fund, and individual angel investors. TechColumbus and the Ohio TechAngel Funds get support from The Ohio Third Frontier and community and corporate partners across Central Ohio.
Grouse Ridge is proud to support the incredible team at nChannel, said Benjamin Garber, Associate with Grouse Ridge Capital, a Pittsburgh, PA based private equity and VC firm. nChannel provides the most effective platform available for addressing the pervasive and rapidly expanding challenges of enterprise systems integration facing the retail industry.
Ohio TechAngel Funds Manager, John Huston, said At $ 2.4 million this is the largest round weve lead in over a year and the level of investor enthusiasm was gratifying.
By maintaining a 23% monthly growth rate on their platform, nChannel has been able to extend their reach in the multi-channel market. They announced plans to release six new connectors this spring and have celebrated their success with companies like The Herschel Supply Company who in the last five months streamlined its eCommerce fulfillment process and processed thousands of orders during the hectic holiday season using nChannels Magento and Microsoft Dynamics GP channels.
Weve known first-hand that expanding our brand into multiple channels increased sales, said Lan Nguyen, Operations Director at Herschel Supply Company. But we also know that we couldnt be successful using multiple channels without efficiently managing our product data.
"Closing this round of funding opens a new chapter for nChannel, said Steve Weber, CEO of nChannel. In just one year, we've proven the value that our cloud-based multi-channel platform provides for companies like Tervis Tumbler and Hershel. With support from our angel investor syndicates and Grouse Ridge Capital, we plan to drive further growth in 2014 through innovation and by positioning ourselves as the leader in multi-channel management.