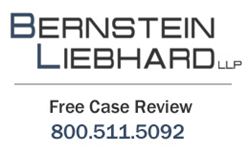 New York, NY (PRWEB) December 14, 2014
More than 1,900 Biomet hip lawsuits (http://www.consumerinjurylawyers.com/biomet-magnum-hip-replacement) remain in a multidistrict litigation now underway in Indiana federal court, Bernstein Liebhard LLP reports.
Court documents on December 9th state that 1,938 lawsuits that allege similar injuries caused by the Biomet M2a Magnum Hip Implant are now pending in the federal proceeding, which is continuing to move forward in the U.S. District Court, Northern District of Indiana. According to recent records, the current number of cases is smaller than it was in July, when parties estimated that 2,300 claims had been filed. (In re: Biomet M2a Magnum Hip Implant Products Liability Litigation MDL No. 2391)
We are representing numerous individuals in the federal Biomet hip litigation, and we continue to field inquiries from recipients of the M2a Magnum hip, says Bernstein Liebhard LLP, a nationwide law firm representing victims of defective drugs and medical devices. The Firm continues to offer free and confidential legal consultations to individuals who may have been injured by metal-on-metal hip implants, including the Biomet M2a Magnum Hip Replacement System.
Biomet Hip Lawsuits
Court documents show that Biomet cases now pending in the U.S. District Court, Northern District of Indiana were filed on behalf of individuals who allege metallosis, pseudotumor formation, chronic pain and other complications due to the metal-on-metal design of the M2a Magnum hip. At the beginning of this year, the Court granted approval for a proposed settlement of Biomet hip lawsuits, which would resolve hundreds of cases if it became finalized. Under the terms of the settlement, which were announced on February 3, 2014, plaintiffs who underwent revision surgery to remove the M2a Magnum hip after it was implanted more than 180 days after originally receiving the implant would be granted a base award of $ 200,000. The Biomet settlement would need to be accepted by 90% of eligible plaintiffs in order to be accepted, according to court records.
A little over a year before the Biomet settlement was announced, a public health alert from the U.S. Food and Drug Administration (FDA) warned that metal-on-metal implants were more likely to fail early than those made of other materials. All patients who received this kind of hip replacement device should undergo routine metal ion blood testing to monitor for signs that their hip is failing, the agency said in January 2013.
Individuals who received the Biomet M2a Magnum hip may be entitled to compensation for damages related to the formation of pseudotumors, chronic pain, premature device failure or another injury allegedly due to the hips metal-on-metal design. Learn more about the litigation involving Biomet hip replacements and other metal-on-metal hip implants by visiting Bernstein Liebhard LLPs website. To arrange for a free case review, call 800-511-5092 to speak with a member of our legal staff.
About Bernstein Liebhard LLP
Bernstein Liebhard LLP is a New York-based law firm exclusively representing injured persons in complex individual and class action lawsuits nationwide since 1993. As a national law firm, Bernstein Liebhard LLP possesses all of the legal and financial resources required to successfully challenge billion dollar pharmaceutical and medical device companies. As a result, our attorneys and legal staff have been able to recover more than $ 3 billion on behalf of our clients. The Firm has been named by The National Law Journal to the Plaintiffs' Hot List, recognizing the top plaintiffs firms in the country, for the past 12 consecutive years. Bernstein Liebhard LLP is the only firm in the country to be named to this prestigious list every year since it was first published in 2003.
Bernstein Liebhard LLP

10 East 40th Street

New York, New York 10016

800-511-5092
ATTORNEY ADVERTISING.