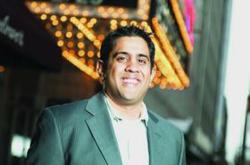 Denver, CO (PRWEB) January 08, 2013
In 2002, Arif Gangji knew the time was right to found his company. He first began working on the Internet in the late 90s and started his first web company while still in high school, but it wasnt until he graduated from college and spent several years in corporate America that he and the Internet had matured to the point that it was time for Neon Rain to become a reality.
In the last ten years, Neon Rains year over year growth has validated his vision. The company remains a powerful full service web development firm. A reliable partner for businesses of all sizes, Neon Rain sets itself apart from the small operators who may be too eager to take on business they cant finish on time. And with an in-house team of experts, the company is unlike the shop-front companies that outsource all their complex work to overseas developers.
Neon Rain has evolved to cover four main areas of business; custom website development, custom web application programming, mobile app development, and search engine optimization. Neon Rain has put together an experienced in-house programming team to handle various obstacles that may come along, which sets them apart from other businesses. That means they can handle more complex projects with in-house resources and you always have someone to talk to.
Neon Rain has also garnered its share of awards over the past decade. Recognized as one of the Top 10 Web Development Firms by the Denver Business Journal for 5 years running, Gangji was personally recognized by the DBJ as one of its Top Forty under 40. Neon Rain received a silver award from W3 and was featured in Killer Startups. Gangji was selected to be a mentor in the Colorado Small Business Development Centers mentor walk for the past two years and was named the, Small Business Person of the Year award by the Metro North Chamber of Commerce.
But the award that makes Gangji the proudest is the recognition they get from their customers, Part of our goal is to create value not just for ourselves, but for our customers, and they appreciate that we are actually able to deliver on this promise. Nearly 80% of our annual business comes from referrals because we push the limits for our existing clients. Take a look at our 7 cultural statements and youll see that we are all about helping businesses grow."
About Neon Rain Interactive
Neon Rain Interactive was founded in 2002 by Arif Gangji. The company provides fully scalable business website solutions for businesses of all sizes, from one person operations to multibillion dollar organizations. Product offerings include business website design, software development, mobile apps, and Search Engine Optimization (SEO). For the past 5 years it has been ranked in the Top 10 Web Development firms by the Denver Business Journal.