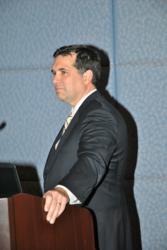 Hartford, CT (PRWEB) December 11, 2012
NEOS CEO, Ernst Renner, moderated the Business and Technology Modernization panel at the Connecticut Technology Councils (CTC) 2012 IT Summit. The event, which attracted over 160 technology professionals, focused on business drivers that have highlighted the need to deliver information through modern architectures and organizations more efficiently and effectively than ever before.
In this panel discussion, executives from corporate and academic environments discussed how modernization now also applies to practices like data management and ranges to business effectiveness and operational excellence. Renner began the conversation by discussing how "there is a paradigm shift in how organizations think about conversions."
Flexibility is critical to successful modernization, said Allan Campbell, Vice President and CTO, Massachusetts Mutual Life Insurance Company (MassMutual). Joe Held, Senior Vice President & Global CIO, Readers Digest Association, Inc. said IT must have a seat at the table to help formulate the business strategy, and set business goals. Doug Casey, Director of Technology, Capitol Region Education Council (CREC) stressed the importance of culture and process, saying it is important to look at the full life cycle of the information. Doing things in manageable and achievable parts is what Mike Byam, CIO, Commercial Lines, The Hartford, is seeing recently. More rapid, incremental change helps to mitigate constant change, said Byam.
The panel discussion highlighted critical success factors, such as truly understanding how the business is using the data, getting the right stakeholders, identifying the appropriate decision makers, documenting processes and managing the change actively and appropriately.
When asked what key element or solution helped from beginning to end, the executives noted the following things as being very effective: dedicating peoples time and co-locating people, making data available to business users, having engaged stakeholders and using an effective process, like Six Sigma, to help bridge the IT and business divide.
About NEOS LLC

NEOS is a management consulting and technology services firm with unparalleled experience in holistic modernization, enterprise data and business operations consulting throughout the US, Europe, the Middle East and Asia. Clients range from large mid-cap companies to the Global 1000 segments including financial services, insurance and media. Services also include process, organizational and operational consulting, enterprise architecture strategies and design, reviews and planning, deployment and data analysis. NEOS is the parent company of Vgo Software that specializes in modernization analysis and conversions solutions.
About MassMutual

Founded in 1851, MassMutual is a leading mutual life insurance company that is run for the benefit of its members and participating policyholders. The company has a long history of financial strength and strong performance, and although dividends are not guaranteed, MassMutual has paid dividends to eligible participating policyholders consistently since the 1860s. With whole life insurance as its foundation, MassMutual provides products to help meet the financial needs of clients, such as life insurance, disability income insurance, long term care insurance, retirement/401(k) plan services, and annuities. In addition, the companys strong and growing network of financial professionals helps clients make good financial decisions for the long-term.
MassMutual Financial Group is a marketing name for Massachusetts Mutual Life Insurance Company (MassMutual) and its affiliated companies and sales representatives. MassMutual is headquartered in Springfield, Massachusetts and its major affiliates include: Babson Capital Management LLC; Baring Asset Management Limited; Cornerstone Real Estate Advisers LLC; The First Mercantile Trust Company; MassMutual International LLC; MML Investors Services, LLC, Member FINRA and SIPC; OppenheimerFunds, Inc.; and The MassMutual Trust Company, FSB. For more information, visit http://www.massmutual.com.
About Readers Digest Association, Inc.

Readers Digest Association is a global media and direct marketing company that educates, entertains and connects more than 140 million consumers around the world with products and services from trusted brands. Readers Digest, the worlds largest circulation magazine, simplifies and enriches consumers lives by discovering and expertly selecting the most interesting ideas, stories, experiences and products in health, home, family, food, finance and humor. Recognized by 99% of American adults, Readers Digest is available in print; online at ReadersDigest.com; via digital download on iPad, mobile apps, Kindle, Kindle Fire, Nook, Sony Reader and Zinio; books and home entertainment products; Facebook, Twitter and other social media outlets. Further information about the company can be found at http://www.rda.com.
About Capitol Region Education Council (CREC)

Since its inception in 1966, CREC has worked with and for its 36 member school districts, CREC has developed a wide array of cost-effective and high-quality programs and services to meet the educational needs of children and adults in the region. The agency offers more than 120 programs to more than 155,000 students annually. CREC manages nearly 40 facilities throughout the area, including 25 interdistrict magnet schools and student service centers.
About The Hartford

The Hartford Financial Services Group Inc. (NYSE: HIG) is a leading provider of insurance and wealth management services for millions of consumers and businesses worldwide. The Hartford is consistently recognized for its superior service, its sustainability efforts and as one of the world's most ethical companies. More information on the company and its financial performance is available at http://www.thehartford.com.