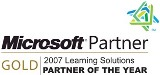 New York, NY (PRWEB) November 29, 2012
Server Management is the topic of a free interactive webinar on Windows Server 2012 offered by NetCom Learning. The webinar, entitled Windows Server 2012 – Server Management which will be led by experienced Microsoft Trainer and Windows Server expert, Richard Oertle, will be held on Thursday, December 13, 2012 from 1:00 PM to 2:00 PM EST.
Windows Server 2012 allows IT professionals and datacenters to set up and manage integrated functionality across an entire datacenter ecosystem including both local and remote servers whether they are physical or remotely accessed. Using Microsoft Windows Server, datacenters can meet their customers needs by providing uninterrupted service that is fast and dependable while saving their company both time and money.
The Windows Server 2012 Server Management free webinar provides an interactive look at the new management capabilities available with the 2012 version of Windows Server, said Russell Sarder, CEO of NetCom Learning.
The newest version of Windows Server lets IT professionals connect and manage servers across multiple machines via one interface. This free webinar introduces IT professionals to the new functionality, giving them information that will help save their company money, said Sarder.
In this session, we will cover:


What's New in Server Manager in Windows Server 2012
Windows PowerShell and Server Core Enhancements in Windows Server 2012
What's New in Active Directory in Windows Server 2012
Dynamic Access Control in Windows Server 2012
Introducing IP Address Management in Windows Server 2012
Amazon Kindle Raffle
Q&A
Richard Oertle, a Microsoft Certified Trainer and Windows Server expert will lead the free webinar on Windows Server 2012. Richard is an IT specialist with more than 30 years of experience. His experience as a courseware designer led to being chosen by Microsoft to help design the 2010 SharePoint courseware. Richards students of his boot camp learning experience illustrate extremely high pass-rates and scores for their certification exams. His expertise includes Microsoft SharePoint, Microsoft Exchange, Windows 7, SQL Server, Windows 8 and most recently Microsoft Lync Server.
**Attendees also are automatically entered into a raffle for an Amazon 6-inch display Kindle, as well as a special learning gift.
This event includes a sneak peek at NetCom's acclaimed MCSA: Microsoft Windows Server 2012.

NetCom Learning was chosen as Microsoft's Learning Partner of the Year from a pool of 1400 training companies. The company has also won training awards and recognition from CompTIA, the EC-Council and other vendors. NetCom Information Technology is a Microsoft Gold Certified Partner for Learning Solutions (CPLS). CPLS is the premier training channel and delivery mechanism for Microsoft Dynamics training content. Microsoft recognized our commitment and ability to deliver high-quality learning services using a consultative engagement model. Only Microsoft Certified Trainers are used in NetCom Learning Microsoft classes.
Join NetCom Learning, for an interactive look at Server Management in Microsoft Windows Server 2012. Register for this complimentary live webinar today!
About NetCom Learning

NetCom Learning is an innovative leader in IT, business and executive training to companies, individuals, and government agencies. Since its inception in 1998, NetCom Learning has trained over 80 percent of the Fortune 100, serviced over 45,500 business customers, and advanced the skills of more than 71,000 professionals through hands-on, expert-led training, with the organization maintaining an average instructor evaluation score of 8.6 out of 9. NetCom Learning was recognized by Microsoft Corporation as its Worldwide Training Partner of the Year and named twice to Inc. Magazine's list of fastest growing private companies in America. The organization was also recently named to the 2011 IT Training Companies Watch List by TrainingIndustry.com and was named "Company of the Year" by the American Business Awards.

The purpose of NetCom Learning is to promote the values of lifelong learning.