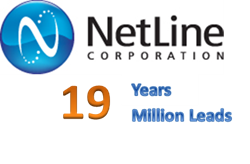 Los Gatos, CA (PRWEB) October 15, 2013
NetLine Corporation, the #1 B2B Multi-Channel content advertising network, is proud to announce they have reached two impressive milestones 19 years in business and generating 19 million leads. Driven by both technology and a customer-centric approach, NetLine continues to provide the finest B2B lead generation services in the industry. For the last 19 years NetLine has prided itself on its Reach, Technology, and Expertise, and its B2B multi-channel network is one of the largest and most diverse in the industry, reaching over 75 million unique business visitors a month.
NetLines roots are founded in Silicon Valley with traditional magazine subscriptions, and has evolved to support the ever-changing content consumption behaviors driven by professionals in the market. As content and how it is consumed has evolved, so has NetLine. "As a small business in the up and down times of the Valley, it is a tribute to our commitment to innovation that has permitted us to succeed and thrive through two recessions and countless changes to our industry," states Robert Alvin, CEO and Founder of NetLine Corporation. "NetLines culture of innovation and teamwork has enabled the company to not only adapt to a constantly changing environment, but excel and distinguish ourselves in the field."
As part of NetLines mission to offer best-in-class tools to their customers, the recently released LeadFlow self-serve cloud platform has been developed to empower consumers to deploy their own content marketing programs harnessing the power of the NetLine network. Since its release, LeadFlows customer base has grown rapidly as customers realize the value and simplicity of the system.
Continuing the drive to improve the end-users experience in downloading content while simultaneously increasing the value to the client, many improvements and optimizations have been rolled out to the NetLine network including improved forms, mitigation of form abandonment, and even more seamless tools for both publishers and consumers. "The power of NetLines network has always been in its ability to offer our publishers the tools they need to give their respective audiences access to the best business content available in a contextual and efficient manner," says David Fortino, VP of Audience Development. "Our continued enhancements have directly improved the users experience in a fundamental manner which in turn helps our publishers, users, and ultimately our clients."
NetLine looks forward to continued success in 2014, and anticipates achieving many more milestones as the leading multi-channel network for business.
About NetLine Corporation:
NetLine is the world leader in business content syndication aimed at driving buyer engagement, customer lead acquisition and sales pipeline performance. Its Precision Targeting Engine and global multi-channel network of over 15,000 web site properties enable B2B marketers to reach a diverse audience of more than 75 million business professionals across 300+ industry sectors. NetLine's multi-channel content delivery model allows for brand customization, content adaptation and flexible market access through publisher web sites, expert blogs, email, search engines, social media networks, eNewsletters, and mobile. NetLine's services have attracted clients such as Google, Hewlett Packard, HubSpot, IBM, Microsoft, Oracle, VeriSign, SAP, SuccessFactors and Symantec. Founded in 1994, NetLine Corporation is privately held and headquartered in Los Gatos, California with operations across the globe. For more information, visit http://www.netline.com.